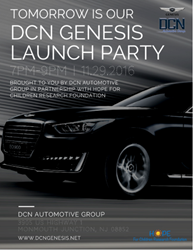 South Brunswick, NJ (PRWEB) November 28, 2016
DCN Automotive Group will partner up with The Hope for Children's Research Foundation to be launch the 2017 Genesis line November 29, 2016 from 7pm-9pm. DCN will be hosting a launch party at their dealership located in Monmouth Junction. To celebrate the new luxury line DCN will be displaying Super Bowl Memorabilia, as well as hostings some of the New York Giants greats, raffles and giveaways. Guest will also be given a first look at the 2017 Genesis and Equus.
""We are very fortunate to be partnered with with Joe and DCN Hyundai. They will make a huge impact with their donation to the Foundation for the Colleen Giblin Research Laboratories at Columbia University Medical Center." said Board of Trustee Member, Michelle Oates
The Genesis brand seeks to create a new definition of luxury, one that will provide a new platform for future mobility centered on people. By anticipating human needs at every touch point, Genesis models will embody four key aspects: Human-focused innovation, refined and balanced performance, athletic elegance in design and hassle-free customer experience.
Located on Highway 1 in South Brunswick, DCN Automotive Group is committed to providing their customers with the best car buying experience possible. The brand itself provides luxury, safety and performance and is surpassing other brands exponentially. DCN welcomes you to come in and meet the team even if it's just to check it out
####
For more information on DCN Genesis please visit http://www.dcngenesis.net