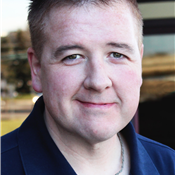 I am excited to be presenting again at SharePoint Fest Chicago. It is not only one of the best conferences as a speaker, but I also enjoy the chance to attend all the other informative sessions throughout the week and stay up on the latest and greatest!
Chicago, Illinois (PRWEB) November 29, 2016
SharePoint Fest Chicago, one of the premier SharePoint conferences, will have Virgil Carroll deliver two sessions. His sessions will be held at McCormick Place South in Chicago, Illinois on December 8th and 9th, 2016.
SharePoint Fest is a two-day training conference (plus an optional two days of workshops) that will have over 70 sessions spread across multiple tracks that brings together SharePoint enthusiasts and practitioners with many of the leading SharePoint experts and solution providers in the country.
Virgil Carroll's Sessions:
Thursday, December 8th at 4:20 pm: Bringing Web Best Practices to SharePoint Intranets
Friday, December 9th at 8:30 am: Developing your own Query Magic in SharePoint Search
About Virgil Carroll
Virgil grew up as an Alaskan fisherman, so he knows that life, like business, can be smooth sailing one minute and stormy seas the next. His ability to stay calm and clear-headed through the storms of business has been a valuable asset to many companies and individuals throughout the years. After graduating with his Master's degree, Virgil decided to put his myriad talents to good use and formed High Monkey and is currently its principal human solutions architect. When Virgil speaks technology he does it from a business person's point of view. You won't find his talks clouded with "tech geek" speak. Virgil has an expansive breadth of knowledge and speaks objectively about a variety of subjects.