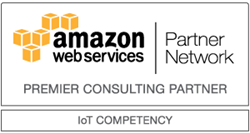 Mobiquity is enabling brands to increase customer loyalty and drive new revenue streams with IoT solutions.
Waltham, MA (PRWEB) November 29, 2016
Mobiquity, a digital engagement provider for the Fortune 500 and AWS Partner Network (APN) Premier Consulting Partner, announced today that it has achieved Amazon Web Services (AWS) IoT Competency status. This designation recognizes Mobiquity for delivering intelligent, data-driven solutions to the enterprise for improving the customer experience.
While the rise of the Internet of Things (IoT) is unlocking new opportunities for enterprise brands to optimize customer engagement, capitalizing on this potential is often a challenge due to the need to integrate and connect various devices to provide a compelling experience. Mobiquity is enabling brands to increase customer loyalty and drive new revenue streams with IoT solutions across mobile, Amazon Alexa, chatbots, and sensors among other devices.
"For our enterprise clients, IoT represents the next wave of innovation," said Ty Rollin, Mobiquity's Chief Innovation Technology Officer. "Being one of the APN launch partners to achieve AWS IoT Competency status is a tremendous reflection of our ability to help our clients transform their businesses on the AWS Cloud."
The AWS IoT Competency differentiates Mobiquity as an AWS APN partner that has demonstrated the relevant technical proficiency and proven customer success, delivering solutions seamlessly on the AWS Cloud environment. AWS established the IoT Competency Program to help customers identify APN Partners with deep industry experience and expertise. To receive the designation, APN Partners must possess deep expertise in the AWS platform and undergo an assessment of the security, performance, and reliability of their solutions.
About Mobiquity:
Mobiquity, Inc is a digital engagement provider that strategizes, designs, builds, and optimizes data-driven solutions for more than 200 leading brands around the world. With a mission to humanize digital experiences, its team of consultants, designers, engineers, and data scientists engages consumers, patients, and employees across all channels, including mobile, web, Internet of Things, and voice, wherever they are. Each day, 50 million users interact with Mobiquity's solutions – from accessing weather information and placing mobile orders to tracking patient trends and receiving continuous care™. Mobiquity is an Amazon Web Services (AWS) Premier Consulting Partner and has worked with AWS since 2011 to deliver 100% cloud-based innovation to its clients. Learn more at http://mobiquityinc.com.