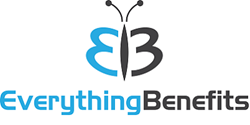 Our mission is to empower employers of all sizes to do what they do best – focus on running their business
New Providence, NJ (PRWEB) November 29, 2016
EverythingBenefits, a provider of comprehensive, next-generation benefit technology solutions and services, today announced that MPAY, Inc. headquartered in Huntersville, NC has expanded Payentry, its payroll and human capital management (HCM) platform, with EverythingBenefits' full suite of benefits enrollment and administration solutions.
Customers of Payentry will now have the tools, through its partnership and integration with EverythingBenefits, to streamline the traditionally time and labor intensive tasks associated with employee benefit enrollment and administration by providing an end-to-end suite of automated benefits solutions that are fully integrated with payroll, making interacting with benefits easier and more meaningful for employers and employees alike.
EverythingBenefits solutions will be available to the more than 30,000 employers throughout the United States who are leveraging Payentry today for their payroll, HR, compliance and cash flow solutions. MPAY's strategic partners, which include some of the nation's leading payroll service bureaus, accounting firms, employee benefit brokers, financial institutions, and human resource outsourcing (HRO) organizations will also have access to the integrated solution offered between Payentry and EverythingBenefits.
Online benefits enrollment and administration integrated with payroll simplifies the enrollment and plan administration process for employers by removing the traditional paper-based processes associated with open enrollment, life change events, and new employee enrollments, which enables employers to effortlessly manage plans and premium contributions. With EverythingBenefits' insurance carrier connection, employers can establish a connection to insurance carriers in a fraction of the time it's historically taken and deliver benefit enrollment and administration data for any size company. COBRA administration helps clients automate virtually all things COBRA from eligibility tracking to notices and payments to coverage timelines, all while making compliance easy.
"Our mission is to empower employers of all sizes to do what they do best – focus on running their business," explains Geoffrey Duke, MPAY's President and CEO. "Our unique partnership with EverythingBenefits ensures that Payentry will remain the SMB solution of choice by delivering an online, integrated and best-in-class HCM solution. A solution offering state-of-the-art benefits management capabilities integrated with payroll will ensure we continue to solve the current and emerging needs of our Payentry customers."
"This partnership with MPAY is a major milestone in our growth trajectory as this is the first that includes our full benefits offering," adds Rachel Lyubovitzky, Chief Executive Officer at EverythingBenefits. "We realize that payroll is vital to every organization, and with this integration, MPAY is going above and beyond to proactively address the benefits needs of the modern employer."
About EverythingBenefits
EverythingBenefits is a leading provider of next-generation, end-to-end benefit technology solutions and services that help businesses of all sizes and their employees experience benefits in more meaningful ways. By leveraging an open business model, EverythingBenefits partners with benefit brokers, independent agents, insurers, payroll or human capital management companies, and other providers. The company's philosophy is that technology should make life simpler, more rewarding, and more enjoyable. For more information, please visit our web site at http://www.everythingbenefits.com or connect with us via LinkedIn, Twitter, or Facebook.
About MPAY, Inc.
MPAY, Inc. offers payroll and human capital management (HCM) services for small and medium-sized employers. Through the Payentry brand, MPAY provides employer solutions that increase cash flow and efficiency, reduce risk, and give a competitive edge in managing and retaining high-quality employees. Available services include integrated payroll, tax and time management services, retirement plans, HSA and FSA benefit plan administration, COBRA and state continuation administration, as well as a complete offering of property and casualty insurance, including Pay-As-You-Go workers' compensation. For more information, please visit our web site at http://www.mpay.com.