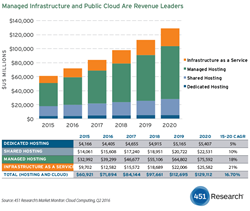 New York, NY (PRWEB) November 29, 2016
Marking the start of AWS re:Invent in Las Vegas, 451 Research has published 2017 Trends in Cloud Transformation, examining key themes including the emergence of 'AWS+1' as an operating principle. In 2017, analysts believe CIOs will accelerate the use of AWS alongside a second public cloud service presenting other providers with new revenue streams.
In addition to supporting fiduciary responsibility, a blended cloud strategy ensures CIOs are not locked into a single vendor or location while gaining the flexibility to match applications, workloads and service requests to their Best Execution Venues.
With large enterprises now spending millions of dollars each year on cloud services, this expenditure has become a noticeable line item on the balance sheet. With an AWS+1 strategy, the CFO and CIO can demonstrate value, choice and flexibility.
In 2017 the growth of hybrid cloud services will usher in the widespread use of brokerage to deliver the right combination of offerings to meet different needs. Brokers will need to provide access to a range of services, their own as well as third party and partner offerings, or risk the customer going elsewhere.
Brokers' success will depend on their ability to deliver multiple cloud service types and for those services to be destinations for new application deployments, modernized (aaS) and migrated applications. This is why 451 Research believes that every services supplier – with the current exception of the hyperscalers – is becoming a cloud services broker. A trend it predicts will accelerate through 2017.
451 Research's report notes that in 2017 service providers will focus on expanding into untapped markets and higher-value services, such as application management, managed security and business process hosting that are "beyond infrastructure", in order to survive.
For service providers, selling virtual machines (VMs) alone will win neither market share nor revenue, regardless of how cheap, powerful or feature-rich those VMs are. Partnerships – in particular between firms, which may have previously been regarded as competitors – will lead to a Cambrian explosion of new services, platforms and ecologies, according to analysts.
As AWS+1 becomes an operating principle in 2017, there will be an opportunity for suppliers of cloud management platforms that can aggregate, integrate and provide control for multiple services. By making it easy to find and use services, IT departments will increasingly act as service brokers to their own organizations, delivering ITaaS. This will enable them to focus resources on business innovation and digital transformation strategies instead of simply keeping the lights on. It can cut costs too - 451 Research's Cloud Price Index recently found that with a multi-cloud approach an enterprise can cut direct cloud expenditure by up to 74%.
In 2017, IT service providers must offer a more agile 'cloud-tasking' delivery model to support digital transformation. In this environment, analysts believe the cloud management platform and the business process management system will be used to link together existing systems with new apps that take advantage of technologies such as machine learning to create more efficient, simplified processes.
Cloud and managed infrastructure market growth
The managed infrastructure and cloud market remains robust. 451 Research analysts predict it will grow for the next several years to encompass more than $129bn in spending, with public cloud and hosted private cloud the pre-dominant sources of growth.
While public cloud continues to be the fastest growth engine in the managed infrastructure and cloud segments, there is a slower-moving, but no less important or lucrative, land rush in the managed infrastructure space. Managed infrastructure and public cloud are now two sides of the same coin. The majority of new revenue for hosters is in private cloud and in blending support of hosted private cloud, public cloud services and on-premise private clouds for enterprises.
By 2020, 451 Research predicts the IaaS market will be worth $25.5bn, or 20% of the overall $129bn hosted IT infrastructure market. As a sanity check it is worth noting that some firms on the planet have IT budget planning cycles that are nearly the size of the entire current IaaS market, which we estimate will be worth $12.5bn in 2016.
"AWS is still the biggest player in the cloud space. In a decade AWS has achieved revenues of $12bn and an enterprise value of some $150bn, or half the market cap of Amazon.com. Looking at it another way - it took IBM a century to reach the same valuation," said William Fellows, 451 Research vice president.
"This not a zero sum game - all segments of the hosted infrastructure market are growing - but the cost of participation is high, so few businesses will afford to build their own. Cloud is part of the managed infrastructure market which itself is more than five times bigger than the cloud market," he added.
About 451 Research
451 Research is a preeminent information technology research and advisory company. With a core focus on technology innovation and market disruption, we provide essential insight for leaders of the digital economy. More than 100 analysts and consultants deliver that insight via syndicated research, advisory services and live events to more than 1,000 client organizations in North America, Europe and around the world. Founded in 2000 and headquartered in New York, 451 Research is a division of The 451 Group. Learn more.
For media inquiries please contact:
Kaitlin Buckley
Marketing Coordinator
kaitlin(dot)buckley(at)451research(dot)com
T: 617.598.7212