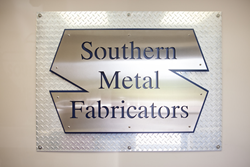 "When you look at the size of our facility today, it's amazing to think that it was just two of us to start," said Charles Bailey, General Manager at Southern Metal Fabricators.
Albertville, Ala. (PRWEB) November 30, 2016
Custom metal fabrication company Southern Metal Fabricators, Inc., will celebrate 25 years of continuous growth on December 13, 2016, with an open house, ribbon cutting, and tours of its 100,000-square-foot facility in Albertville, Ala. Customers, friends and family will be treated to lunch and have the chance to view fabrication work in progress and Southern Metal Fabricators' latest equipment, including its state-of-the-art paint booth and blast room, its newest resource for cutting days off finishing times for larger products such as bulk storage tanks and heavy ductwork.
Southern Metal Fabricators was established in 1991 as a two-man shop serving the metal fabrication needs of feed mills in the Albertville, Ala. area. After bringing the company up to 10 employees, current General Manager Charles Bailey became the sole proprietor in 2007. Since then, Southern Metal Fabricators has expanded to 50 employees and has developed its expertise in fabricating custom products such as tanks, hoppers, industrial ductwork, carts and totes, and industrial access equipment for companies in the automotive, petroleum, and power industries across the United States and around the globe.
"When you look at the size of our facility today, it's amazing to think that it was just two of us to start," said Charles Bailey, General Manager at Southern Metal Fabricators. "I feel very fortunate and incredibly proud that we've grown like we have. I'm excited to celebrate our 25 years of success with our customers, staff, families and community."