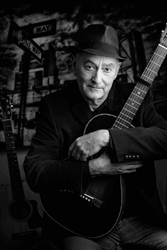 "It's just that feeling; that feeling that also leaves a presence within you."
New York, New York (PRWEB) December 20, 2016
Sim Shalom Rabbi Steven Blane will celebrate the release of his Americana /Rock/Folk album "I Confess" with a concert on December 29 at Rockwood Music Hall in New York City. Blane a singer - songwriter will perform, accompanied by his band, all the songs from the newly released Nashville produced album. "I Confess," a collaboration with famed Christian Country music performer and producer Billy Smiley (Johnny Cash, Clay Aiken) was released on December 11th. It is available on ITunes and Amazon.
Blane's original lyrics are musings of love, faith and doubt, unearthing his journey as rabbi, cantor, and singer-songwriter. Music critic Justyn Brodsky expressed Blane's music as versatile and diverse. "It's just that feeling; that feeling. A feeling that also leaves a presence within you."
Rockwood Music Hall is located at 196 Allen Street, on the Lower East Side in New York City. Blane will headline accompanied by his band; Kevin Hailey on bass and Frank Levatino on drums on Stage 1 at 6:00pm Thursday, December 29. There is no cover (one-drink minimum). Rockwood is a 21+ venue.
For those not near New York City look out for Blane who will add performances in 2017 in locations in the U.S. Fans and congregants can also take a listen as he blends all his passions as he delivers online musical warm up sessions to welcome his Friday universal Sim Shalom services each Friday.
About Sim Shalom:
Sim Shalom is an interactive online Jewish Universalist synagogue which is liberal in thought and traditional in liturgy. Created in 2009 by Rabbi Steven Blane on Manhattan's Upper West Side, Sim Shalom offers a means of connecting the unconnected. Rabbi Blane leads accessible and short Shabbat services every Friday night using a virtual interface and additionally Sim Shalom provides online education programs, Jazz concerts, conversion and life-cycle ceremonies along with weeknight services at 7:00PM EST led by Rabbis and students of this online community.
Rabbi Blane is also the founder and director of the Jewish Spiritual Leader's Institute, http://www.jsli.net, the online professional rabbinical program.
Sim Shalom, a non profit 501 © (3) tax-exempt organization, nurtures a Jewish connection through its mission of innovative services, creative education and dynamic outreach to the global community. For more information visit http://www.simshalom.com or call 201-338-0165.