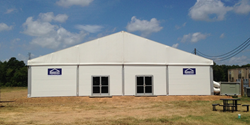 The temporary structure allowed for immediate, reliable space for both a cafeteria and assembly area.
MEMPHIS, Tenn. (PRWEB) December 19, 2016
Mahaffey Fabric Structures, the leading provider of temporary turnkey structures and shelter solutions in the United States, recently provided a temporary building for Frassati Catholic High School in Spring, Texas. Due to the continued construction and weather delays during a capital expansion campaign, the school was in need of space for its students to eat lunch and gather for assemblies.
"We felt Mahaffey was the right fit for our needs, because of the company's reputation for providing quality structures and a high level of service," said John D'Antoni, Director of Operations at Frassati Catholic High School. "The biggest challenge was that we were looking for a turnkey solution. Mahaffey provided that."
According to D'Antoni, the alternative options were to build a pavilion, rent trailers or a non-engineered tent without climate control, modify school schedules, use a facility down the street or simply do nothing. Not one of those options, however, provided a suitable solution, especially given that the project was initiated just 45 days before the start of the school year.
Prior to installation, Mahaffey served as a site consultant, helping to facilitate various pre-construction duties. In addition to establishing an adequate drainage solution, getting the frame onto the school grounds presented its own set of challenges. Mahaffey constructed a temporary bridge over a large ditch to be able to carry the structure components onto the site.
Mahaffey ultimately constructed a 50' x 66' MegaStructure, a temporary industrial structure best suited for semi-permanent applications and in areas with harsh climate conditions. Climate control was of the utmost importance due to the timeframe being during one of the hottest summers on record. Therefore, the structure was built with insulated hard sides and glass doors.
The temporary structure allowed for immediate, reliable use of both a cafeteria and assembly space, while the school's permanent facility was being constructed. It was important to the school's administration that they had temporary space on-site, enabling the student body to gather together for lunch, assemblies and other events instead of going off campus. Mahaffey's more than 90 years' experience installing fabric buildings and temporary structures of this nature allowed the company to mobilize quickly, exceeding the school's deadline by 10 days.
About Mahaffey Fabric Structures
Founded in 1924, Mahaffey Fabric Structures currently serves customers throughout North America, Mexico, the Caribbean and beyond, installing more than 400 temporary structures in a typical year. This award-winning, innovative company simplifies the rental experience, as all planning, siting, permit gathering, installation and maintenance are performed by Mahaffey's highly-skilled, professional crews, so you can focus on the work at your site while we focus on the details of your structure. For more information, visit http://www.mahaffeyusa.com.