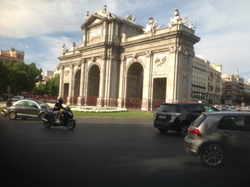 Madrid - the place to be!
(PRWEB) December 16, 2016
For anyone looking for a getaway, Madrid is the place to be! Bravo Tours Inc. announces their winter promotion: "Madrid on TAP." This is a special offer, and is the perfect trip for those who seek an adventure. This cultural tour takes place over a period of 8 days and 6 nights, with prices starting from as low as $1,499. The offer is good from January 21st through March 25th, 2017. Bravo Tours invites all to join them on what is sure to be the trip of a lifetime.
Bravo Tours is a premiere cultural touring agency, based in the USA, and has been one of the top choices for teachers/students since 1980. There are many custom tours and itineraries, ready to shape the needs of all who wish to travel. There is no application or membership fees – simply pick the package that suits the needs best, as Bravo manages all airfares, hotel lodgings, and licensed tours. "Bravo strives to provide all our clients with a uniquely unforgettable cultural experience," says Lou Dinnella, the Director of Bravo Tours. Madrid on TAP is just one exciting example of a Bravo tour, which would make for an enjoyable Christmas gift for any loved one.
Madrid itself is bursting with culture, and is filled with great food and wine, and even better fun for all. There are many mouth-watering things to eat at numerous delectable restaurants, such as the roasted suckling pig from Casa Botin, roasted chicken from Casa Mingo, and delicious pescado, which is served almost anywhere the foodie tourist chooses to dine. If a full meal is needed, there are plenty of tapas all over the city, where they serve shrimp in garlic sauce, serrano ham, stuffed mushrooms, fried squid, and Galacian – style octopus.
Along with the food, there are plenty of other chances for world-class entertainment. There is gambling at the local casinos and racetracks, while numerous cultural activities can be found at the museums and theaters. If a more traditional outing is sought, there are thrilling bullfights and Flamenco shows. Additionally, sporting events are just a moment away, and there might even be a game between Real Madrid and Barcelona. Booking this trip with Bravo Tours is an opportunity that can't be missed.
The package itself offers round-trip airfare from Miami to Madrid, with the option of a free stopover in Lisbon. In Madrid, 6 nights will be stayed in 4-star hotel accommodations, and all rooms feature private baths with a buffet breakfast. There will be full day tours of Avila and Segovia, along with half-day tours of Madrid, Toledo, and El Escorial. Madrid on TAP offers something for everyone looking for a taste of Spain.
About
Since 1980, Bravo Tours has provided teachers and their students with great cultural programs to Spain and beyond. While we have standard itineraries, we have always customized our programs to meet your needs. In addition, Lou and Grisell Dinnella, the owners of Bravo Tours, are always at hand to personally answer your questions, or give their input into your program. Remember, Bravo is a sign of a job well done. We are sure that after travelling with us you will say – Bravo to Bravo! You can call us toll free at 800-272-8674 or see http://www.bravotours.com.