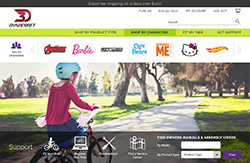 We realized that we must change and adapt our digital presence in order to move our business into the B2C model.
Ann Arbor, MI (PRWEB) December 08, 2016
Human Element is pleased to announce the launch of DynacraftWheels.com on the Magento 2 platform. This project is a milestone for the 30-year-old wholesale-only company.
Founded in 1984, Dynacraft Wheels designs and manufactures adult and kids bikes along with scooters and ride-ons. The company's primary business has been distributing to retailers like Toys"R"Us, Target, Walmart and other well-known brick-and-mortar stores. This Magento 2 project features a new modern look for their web presence, a custom Netsuite integration, a Fit My Ride Tool, and a Where To Buy feature powered by ChannelAdvisor that supports their strong ongoing B2B partnerships online.
"Through the methodical process of rebranding three years ago, we as a company recognized the added opportunity of establishing a digital footprint in the marketplace. We realized that we must change and adapt our digital presence in order to move our business into the B2C model. In short, the consumer experience had to differ from the very successful B2B model we have been operating under," said Dynacraft Managing Director John Bisges. "Having said that, the need for a good reputation and relationship with consumers and suppliers, on and offline will never change. Dynacraft is committed to finding that balance in this ever-evolving digital environment."
B2C CHALLENGES AND OPPORTUNITIES
Human Element and Dynacraft worked together to define and develop solutions to meet the challenges of a B2C site launch for a company that's never sold directly to consumers. Their previous website did not allow consumers to checkout with products, but instead redirected them to retail partner websites for purchases. Dynacraft wanted to make sure those wholesale partners would continue to benefit from their web presence, while also opening up the opportunity to make their brand known to consumers.
With this launch, Dynacraft worked to resolve many of those B2C challenges, including identifying new processes and developing new standard operating procedures for functions like RMA and inventory control, which they've never needed to do in this way before. Dynacraft prepared their IT team and internal systems for more granular customer data accounting specific to the B2C world, and they also tackled Black Friday and Cyber Monday in ways they never have before.
In designing this new store, Human Element and Dynacraft also focused on the new opportunities for growth, including increased profit margin from direct sales as consumers discover the brand, and helping Dynacraft achieve their goal of becoming a well-known consumer brand. With the power and flexibility of the Magento 2 platform and their custom connection to Netsuite, Dynacraft is well-positioned for this growth and to build additional features as they discover more about their new B2C customers.
"This has been a really exciting project, and we value the partnership Human Element has developed with the Dynacraft team," said Andrea Evans, the Director of Project Management at Human Element, and the Business Analyst for the Dynacraft project. "We are looking forward to seeing Dynacraft's success in this new market as they discover how their customers shop and buy online, and to building and designing new Magento features to support that growth in the future."
ABOUT HUMAN ELEMENT
Located in Ann Arbor, Michigan, Human Element works to develop eCommerce solutions for high transaction websites using the Magento and BigCommerce platforms. Human Element is one of the fastest growing custom application development agencies in Michigan, and is a Magento-certified Professional Partner. The Human Element team has explored the vast functionality of the Magento ecosystem, acquiring a broad range of experience developing custom extensions. Custom development work has included eCommerce integrations with enterprise resource planning (ERP) systems, customer relationship management (CRM) platforms, (ESP) email service providers, payment gateways, and other data systems. Visit http://www.human-element.com or call 734.545.8017 to learn more.