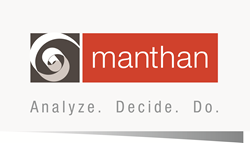 Apart from better customer targeting and offer personalization capabilities with NCR AMS, we have moved a step further in ensuring the complete security of client data in the private cloud.
Santa Clara, CA (PRWEB) December 01, 2016
Manthan, the global leader in analytics and big data announced the latest release of its award winning customer marketing solution Customer360. The new release features integration with NCR AMS for better customer targeting and offer personalization.
Marketers can now use the advanced analytics capabilities in Customer360 to segment customers, identify growth opportunities, and activate them using NCR AMS. Smarter, analytically driven, customer lists can be created and sent to AMS for precise customer targeting with relevant offers at PoS. The machine learning based recommendation engines that power Manthan Customer360 are now closely integrated with AMS for offer personalization.
Customer360 has also enhanced its security capabilities by integrating with Okta, the global leader in identity management. This improves its security governance, especially given the importance of identity management and the criticality of strong identity protocols that protect against security risks. This integration allows Manthan customers to take advantage of centrally managed single sign-on. The business users across the organization can now use their enterprise access credentials to log into Customer360 as well.
"Apart from better customer targeting and offer personalization with NCR AMS, we have moved a step further in ensuring complete security of client data in the private cloud as well as easier access control with Single Sign On (SSO). While we have integrated Customer360 with Okta, it also supports multiple other SSO solutions in the market including Open IAM and ADFS, apart from our own implementation of SSO that uses standards from Auth0", said Vijay Chidambaram, VP Cloud Engineering and Quality Assurance, Manthan.
Manthan will be showcasing the new release of Customer360 along with its full portfolio of advanced analytics products at NRF 2017, New York at Booth #4111. Innovative, intuitive and responsive product portfolios that leverage best in class advanced analytics, machine learning and artificial intelligence from Manthan will be presented at the Retail's Big Show. Manthan has an award winning portfolio of products that combine the ease of enterprise BI and self-service analytics, optimized for cloud and offered on SaaS subscription model for quicker and effortless adoption.
-----------------
About Manthan
Manthan is the Chief Analytics Officer for consumer industries worldwide. Manthan's portfolio of analytics-enabled business applications, advanced analytics platforms and solutions are architected to help users across industries walk the complete data-to-result path - analyze, take guided decisions and execute these decisions real-time. Sophisticated, yet intuitive analytical capability coupled with the power of big data, mobility and cloud computing, brings users business-ready applications that provide on-demand access and real-time execution - the only path to profit in a contemporary, on-demand and connected economy. Manthan is one of the most awarded analytics innovators among analysts and customers alike. To see how your business can gain from analytics, visit https://www.manthan.com.