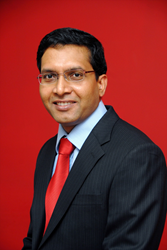 Kingston, Jamaica (PRWEB) December 01, 2016
Paladion, a global cyber security provider, today demystified the blockchains of space age business transactions at JCS IT knowledge forum 2016. The Jamaica Computer Society's IT Knowledge Forum is a bi-annual event aimed at providing a unique collaborative environment where public and private sector leaders keep their fingers on the pulse of today's fast moving technology landscape.
The Theme this year was "Empowering Business with Technology" and was strategically chosen in recognition of the critical role that business and entrepreneurship play in national growth and development. The JCS IT Knowledge Forum 2016 brought together the greatest thinkers in the technical, operational, and policy making communities in the IT space, giving audiences the opportunity to connect and engage with a wide cross section of decision makers. The event brought together approximately 200 professionals across all industries seeking to keep abreast of new frontiers in technology
Rajat Mohanty, CEO & Co-Founder of Paladion Networks delivered the second keynote on day one of the conference that briefly delved on the risks involved in using Blockchain and how to mitigate them. Rajat said, "Today, Blockchain as a technology is being evaluated by every industry; financial institutions being the early adopters of the technology. Blockchain is set to change the way transactions and contracts are managed amongst parties without the need for trusted intermediation. However, the distributed, immutable and cryptographic manner of the database is not easily understood by everyone. This session at JCS IT Forum aimed to explain the underlying technology in a simple manner, and described its safe usage in various business scenarios. " You can watch the full 45 minutes session here: https://youtu.be/xlRor3znMzs
On Day two Rajat conducted a breakout session for participants that covered the hidden Facets of Cybercrime and how to uncover them. On this session, Rajat said, "Cybercrime is steadily growing despite fast-rising investment in security technologies. Cyber criminals have become adept at using advanced methods to bypass traditional security. There is a full-fledged underground economy today for trading attack tools, skills, and stolen data brewing a new generation of cybercrime as a service. This session at JCS IT forum highlighted several modern methods and techniques which are in use for cybercrime for defeating traditional security technologies. and how deep and dark web is leveraged for such activities. The session will also briefly explain the methods that are being used by today's security practitioners to combat such modern and hidden threats."
About Paladion
Paladion is a global cyber security provider that offers end-to-end information security services and solutions in the US, Europe, Asia and the Middle East. Paladion is rated and has been recognized and awarded by Gartner, Asian Banker and Red Herring, amongst others.
For over 15 years, Paladion has been actively managing information risks for over 700 customers. Paladion provides a complete spectrum of information risk management comprising of security assurance, compliance, governance, monitoring, security analytics and security management services to large and medium-sized organizations. Paladion is also actively involved in several information risk management research forums and has authored many books on the same. With a staff of over 800 dedicated security experts, Paladion has 6 Security Operations Centers (SOCs) across the world.
Please visit http://www.paladion.net for more information.