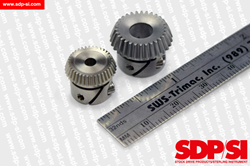 Many of our customers have switched to the Fairloc® hub design, not only for gears, but also pulleys and couplings.
New Hyde Park, New York (PRWEB) November 29, 2016
Stock Drive Products/Sterling Instrument (SDP/SI), a leader in comprehensive motion control solutions, has expanded their component offering with the introduction of a new series of Fairloc® Hub Miter and Bevel Gears. The precision gear sets feature the unique Fairloc® hub design, are machined from Stainless Steel and Anodized Aluminum and are offered in a variety of ratios.
The Fairloc® hub precision miter and bevel gear sets S13F3Z-72… (72 pitch), S13F4Z-64… (64 pitch), and S13F6Z-48…. (48 pitch) are available as standard catalog items, but can be customized to meet client requirements, such as different number of teeth, different pitch, bore size, or passivation. The unique one piece construction eliminates the need for two separate components, a clamp and split hub bevel gear, resulting in greater reliability, time and cost savings.
The compact, self-contained Fairloc® hub provides a number of advantages, better reliability of fixing the gear to the shaft, superior accuracy of clamped gear runout to the shaft and easy adjustment. Fairloc® can be tightened and released repeatedly without marring the shaft. "Many of our customers have switched to the Fairloc® hub design, not only for gears, but also pulleys and couplings, says Cris Ioanitescu, Applications Engineering Manager, and the numbers are growing." "Our increased gear-cutting capacity and improved methods of production are resulting in shorter lead times and an expanded product mix."
About SDP/SI – Stock Drive Products/Sterling Instrument a Designatronics company
SDP/SI, ISO 9001:2008 + AS9100C certified, provides mechatronic based design, engineering and manufacturing services for critical motion control applications, including aerospace, defense, and medical. Over 100,000 standard inch and metric small mechanical components are available for fast turnaround. SDP/SI specializes in high-quality machined parts, molded components, precision gears and gear assemblies. For more information go to: http://www.sdp-si.com