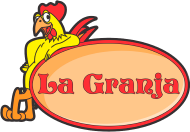 Tamarac, FL (PRWEB) November 30, 2016
Five of the more than 40 La Granja restaurants are now serving breakfast all day on Sundays at 9:30 a.m. These locations include:

La Granja Parrilla in Margate: 306 N State Road 7, Margate, FL
La Granja Tamarac: 5701 N University Dr., Tamarac, FL
Patrons may visit either of these La Granja locations for a delicious Peruvian breakfast with the family on Sundays, and they don't even have to get up early.
Some popular Peruvian breakfast menu favorites include fresh hot Peruvian coffee and orange juice, and a choice of:

Chicharron - Enjoy 1/2 lb. of delicious fried pork served with sautéed onions, bread, and sweet potato slices, seasoned with Peruvian chili pepper seasonings.
Delicious empanadas that are stuffed with savory Peruvian seasoned chicken, beef, or pork and cheese.
Fresh baked tamales, stuffed with masa and pork or beef, served wrapped in a banana leaf that seals in the tasty flavors.
La Granja has received hundreds of customer reviews on Yelp, Trip Advisor, Yellow Pages and others. With an average of more than four out of five stars, comments include:
"…affordable with generous portions…."
"So yummy & they have great specials !!! We love la granja! Don't miss their sauces!"
"Love this place!!!!!!! Fast service, generous portions and great food. They have a sauce bar that I love. Everything was fresh, fast delicious and not bad on price. Definitely shareable plates. I dream of the garlic sauce, sooooo good! I will be back."
"Our friends told us good things about this restaurant so we decided to give it a try. We are glad we did! The food is very tasty and the portions are ample. My husband ordered the seafood with rice and I tried the fajitas and we were both very satisfied."
"The Peruvian food served here is outstanding! The service is good with pleasant attitudes, it's nice to have real silverware and convenient ice water."
"This is such a wonderful place as it serves delicious food at such reasonable prices and has an extensive selection of items, such that everyone can find something they absolutely love! This is comfort food at its best and very affordable. Staff is always friendly and the service is super fast. Love this place!"
Come see what these people are raving about—visit a La Granja restaurant nearby today!
For further information and to search for the nearest location, visit https://www.lagranjarestaurants.com/en/
Additional contact information:
La Granja Corporate Office
3907 NW 49th Street Tamarac, Fl 33309
Phone: (954) 968-7988
info(at)lagranjarestaurants(dot)com
http://lagranjarestaurants.com/