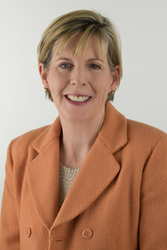 Arlington, VA (PRWEB) November 29, 2016
Maureen Enright has been named director of the Children's Food and Beverage Advertising Initiative (CFBAI), a voluntary industry program to help combat childhood obesity that is administered by the Council of Better Business Bureaus (CBBB) and supported by 18 leading food and beverage companies that have pledged to advertise to children only foods that meet CFBAI's nutrition criteria. Enright also will hold the title of CBBB vice president, and will continue to serve as director of the Children's Confection Advertising Initiative, a sister program of CFBAI, whose members pledge not to advertise candy directly to children.
She had been the long-time deputy of Elaine J. Kolish, CFBAI's founding director, who departed in July after leading the program for nearly ten years. Enright has served as CFBAI's deputy director for six years and had been acting director since August. Earlier in her career, she was an attorney in the Division of Advertising Practices at the Federal Trade Commission, where she also served as an Assistant to the Director of the Bureau of Consumer Protection and as the Acting Director of Enforcement. Following her work at the FTC she was Of Counsel at the law firm Collier Shannon counseling in the areas of food, drugs and supplements.
"Maureen has been a critical part of the CFBAI team for years," said Mary E. Power, president and CEO of CBBB. "She helped launch a new BBB program for small- and medium-size confection companies earlier this year. To her demonstrated commitment to CFBAI, she adds her knowledge and understanding of the food industry, nutrition standards, public policy, and the regulatory environment. We are delighted she has taken on this leadership role and will help lead CFBAI into its second successful decade."
Enright is a graduate of Fordham University, (B.A. summa cum laude, English) and the University of Virginia Law School. In addition to her professional career, she worked for many years as a voluntary attorney with Immigration Legal Services at Catholic Charities D.C. where she represented asylum-seekers and victims of human trafficking and domestic violence. She is a member of the D.C. and Virginia Bar Associations.
-30-
ABOUT CFBAI:
BBB launched the Children's Food and Beverage Advertising Initiative in 2006 to shift the mix of advertising messaging directed at children to encourage healthier dietary choices and healthier lifestyles. CFBAI's participants currently are The American Licorice Company; Burger King Corporation; Campbell Soup Company; The Coca-Cola Company; ConAgra Foods, Inc.; The Dannon Company, Inc.; Ferrero USA, Inc.; General Mills Inc.; The Hershey Company; Kellogg Company; The Kraft Heinz Company; Mars, Incorporated; McDonald's USA, LLC; Mondelēz Global LLC; Nestlé USA; PepsiCo, Inc.; Post Foods, LLC; and Unilever United States. For more information about CFBAI, visit bbb.org/kids_food.
ABOUT BBB: For more than 100 years, Better Business Bureau has been helping people find businesses, brands and charities they can trust. In 2015, people turned to BBB more than 172 million times for BBB Business Reviews on more than 5.3 million businesses and Charity Reports on 11,000 charities, all available for free at bbb.org. The Council of Better Business Bureaus is the umbrella organization for the local, independent BBBs in the United States, Canada and Mexico, as well as home to its national programs on dispute resolution, advertising review, and industry self-regulation.
MEDIA CONTACTS: For more information, journalists should contact Katherine Hutt (703-247-9345 or khutt(at)council(dot)bbb(dot)org) or Jasmine Turner (703-247-9376 or jturner(at)council(dot)bbb(dot)org).