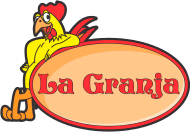 Great food, now even closer to the main drag (I95, 826, 441, Memorial Hwy)
North Miami Beach, FL (PRWEB) November 30, 2016
One of La Granja Restaurants' many locations is in North Miami Beach at 105 NE 167th St. It is located across from the North Miami Beach Surgical Center and Golden Glades Branch Library. It's just a couple of blocks east of I95. Just like all the other La Granja restaurants (almost 50 to date), this location serves fresh, fast Peruvian cuisine at an affordable price.
La Granja Restaurant in North Miami Beach on 167th St. is now serving a 1/4 quarter chicken with rice and beans for a new price of only $4.95.
LaGranja also serves their signature "Pollo a la Brasa", or Peruvian Rotisserie Chicken at all their locations. It can be ordered as a sandwich, meal or platter. Other delicious menu items include steak, pork and seafood platters, sandwiches, sides like beans and rice, as well as tasty desserts. All dishes are cooked in the unique Peruvian style for which La Granja is famous.
La Granja Restaurants recently partnered with the Palm Beach State Community College Foundation in forming the La Granja Road to Success Scholarship. Claudia Bartra, La Granja's CFO and General Manager, on behalf of her family and La Granja Restaurants, is offering academic scholarships to students who are Florida residents and of Hispanic or Latino descent, and who would like to take advantage of an opportunity to attend Palm Beach Community College. Scholarship candidates must have at least a 2.8 GPA. The amount of the scholarship is $1000 dollars per student for two major terms. The scholarship amount for a term such as fall or spring is $500.
La Granja Restaurants is no stranger to praise, having won numerous awards since they began opening restaurants in Florida in 1995. The owners' philosophy regarding their success is to combine great teamwork, outstanding customer service, a positive attitude and hard work. They value their employees, customers and achievements.
La Granja is very involved in South Florida community issues, partnering with grass roots youth organizations like ASPIRA and honoring veterans.
For further information and to search for the nearest location, visit https://www.lagranjarestaurants.com/en/
Additional contact information:
La Granja Corporate Office
3907 NW 49th Street Tamarac, Fl 33309
Phone: (954) 968-7988
info(at)lagranjarestaurants(dot)com
http://lagranjarestaurants.com/