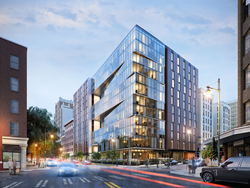 Alpharetta, Georgia (PRWEB) November 29, 2016
Two Roads Hospitality (Two Roads), a unique lifestyle and independent hotel management company, is expanding its use of The Rainmaker Group's revintel business intelligence platform portfolio-wide for increased insights into strategic data, following the merger between Destination and Commune Hotels in January 2016. The recent merger, and the rebranding to Two Roads Hospitality, created an opportunity for the newly combined organization to implement a comprehensive business intelligence platform across its whole portfolio.
Prior to the merger, Commune Hotels had replaced its own proprietary in-house system with revintel, and had been using the platform successfully for more than a year. Due to this success, the Two Roads management team chose to expand implementation of revintel to its Destination properties, creating a comprehensive portfolio-wide data source. Two Roads' decision to expand implementation of revintel was also heavily influenced by the ease with which the platform uncovers key property, market, brand and portfolio-wide trends, providing critical insights early in the booking cycle and much more.
"It is extremely valuable to us to have one comprehensive platform pulling data company-wide so that we can have a consistent, single source of truth for each property, which is why we have decided to expand our revintel implementation across our growing portfolio," said Kathleen Cullen, senior vice president of revenue and distribution for Two Roads Hospitality. "The platform helps us to understand so much regarding pace — both transient and group pace — alerting us to potential deficits throughout the year, and within specific segments."
A highly intuitive platform, revintel handles all of the complexity in mining data sets for the user, providing Two Roads with deep insights that are critical to improving day-to-day revenue management needs. It allows for segmented data reports to be pulled at any time, creating fluidity in decision-making and processes across the company's multiple locations and brands. All revenue-generating team members are able to efficiently navigate through the data on their own, cutting out the need to gather data and freeing them to focus on critical decisions affecting sales and revenue opportunities.
"Rainmaker really listened to our needs and responded with an ideal solution that does the heavy lifting for us and does it quickly, helping us to interpret data and make it actionable," adds Cullen. "This is really important to us in maintaining our forward momentum."
Two Roads currently has revintel in use at over 40 open and operating hotel locations and plans to have all properties equipped with the platform by the end of January 2017. For more information on revintel and Rainmaker's additional revenue management and business intelligence solutions, please visit: http://www.letitrain.com/