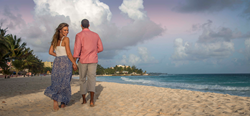 Chapel Hill, NC (PRWEB) December 05, 2016
The season of sales has arrived. Divi Resorts' annual "12 Days of Divi" promotion kicks off this Friday. A new discount or special on Divi's eight premium Caribbean resorts will be revealed each day starting Friday, December 9 until Tuesday, December 20. Once the deals are announced, they will remain valid through the end of the promotion. Caribbean travelers have the opportunity to find unique travel deals exactly where and when they want to go.
Here's a hint of the savings vacationers can expect. Each deal stays live until Day 12, Tuesday, December 20.

Day 1, December 9, opens with 50 percent off all-inclusive stays at two Aruba locations: Divi Village Golf & Beach Resort and Divi Dutch Village Beach Resort. Travel dates are available 4/17/17-6/30/17 and 8/15/17-12/20/17.
Day 2, December 10, offers 45 percent to 50 percent off last-minute January travel to select resorts on Aruba, St. Maarten, Bonaire and Barbados.
To discover the full range of discounts in store for a wide range of destinations and travel windows, travelers can sign up for the Divi Resorts email newsletter at http://www.diviresorts.com/email-specials.htm. They can also follow along daily by visiting http://www.diviresorts.com/.
About Divi Resorts
Divi Resorts is the vacation expert of the Caribbean, with a collection of eight premium resorts spanning the five stunning Caribbean islands of Aruba, Barbados, Bonaire, St. Croix and St. Maarten. With both hotel and vacation ownership options, the resorts provide a multitude of vacation pleasures, from relaxing on white sand beaches and indulging in spa services, to embarking on scuba diving adventures and perfecting one's golf swing. Vacation ownership is available through the Divi Vacation Club, a flexible, points-based product. For more information on Divi Resorts, call 1-800-367-3484 or visit http://www.diviresorts.com. For more information on the Divi Vacation Club, visit http://www.divivacationclub.com. Use of the Divi Resorts registered brand is licensed.
###