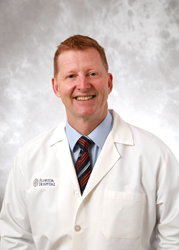 His experience and expertise in caring for patients of all ages helps us continue to meet the primary care needs of families and patients throughout the North Pinellas area
Palm Harbor, FL (PRWEB) November 29, 2016
Florida Hospital Physician Group (FHPG) is pleased to announce the addition of Craig W. Burns, D.O. to the team. Dr. Burns is a board certified family medicine physician who provides comprehensive care for patients of all ages, from newborns to adults.
Dr. Burns earned his medical degree from the Kirksville College of Osteopathic Medicine in Kirksville, Missouri before completing his internship and residency in family medicine at the Northside Hospital Family Medicine Residency program in St. Petersburg, Florida. Dr. Burns provides a comprehensive range of care from preventative medicine, pediatrics and geriatric care to acute and chronic disease management and spinal consultations.
Florida Hospital Physician Group physicians and staff focus on compassionate, whole-person care with extensive knowledge and expertise to diagnose and treat medical conditions with a patient-focused approach. "We are very excited to have Dr. Burns join FHPG to provide family medicine services in our new North Pinellas Medical Center in Palm Harbor. His experience and expertise in caring for patients of all ages helps us continue to meet the primary care needs of families and patients throughout the North Pinellas area," shared Chris Jenkins, President of Florida Hospital Physician Group.
Dr. Burns is located at 4705 Alternate 19, Suite B, Palm Harbor, Florida 34683, and is currently accepting new patients. For more information, or to schedule an appointment, please call (727) 935-6477 or visit http://www.FHPhysicianGroup.com.
About Florida Hospital Physician Group
Florida Hospital Physician Group (FHPG) is a multi-specialty physician group, dedicated to improving the health and wellness of communities throughout the greater Tampa Bay region with more than 160 providers operating in over 45 locations representing over 25 medical specialties. FHPG offers patients the highest level of compassionate and multidisciplinary care through a broad range of medical and surgical services, as well as direct access to five local Florida Hospitals, a Long Term Acute Care facility, imaging centers, specialty and urgent care centers, rehabilitation facilities and home care agencies located throughout Hillsborough, Pasco and Pinellas counties. Part of the Adventist Health System, Florida Hospital is a leading health network comprised of 26 hospitals throughout the state. For more information, visit http://www.FHPhysicianGroup.com.