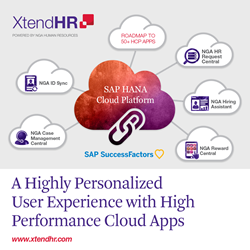 You don't need to be using Cloud HR solutions to take advantage of our apps as they work with and connect to OnPremise technology as well.
SuccessConnect 2016, Vienna, Austria; London, UK (PRWEB) December 01, 2016
NGA Human Resources, a leading global provider of HR and payroll solutions, today launches XtendHR, the HR and payroll industry's first standalone SAP Hana Cloud Platform App development business.
XtendHR is an NGA Human Resources business with the primary objective of enabling the Digital HR transformation journey by bridging process and technology gaps using the Hana Cloud Platform. As a founding member of SAP's HANA Cloud Platform Advisory Council, NGA HR is shaping the future of HR-related use cases for the Hana Cloud Platform.

Apps and Extensions are critical for maximizing businesses investments in Digital HR transformation journey
XtendHR launches with five Digital HR Apps, and 10 in development
Portfolio pipeline of 50 core HR and business process Apps and Extensions
NGA HR founding member of SAP's HANA Cloud Advisory Council
Five XtendHR Apps are already available in the SAP App Center, including NGA Hiring Assistant and NGA Reward Central, both also launched today at SuccessConnect 2016. Current XtendHR Digital Apps include
NGA Hiring Assistant – Accelerating the hiring process
NGA Reward Central – Efficient management of employee rewards
NGA Case Management Central - Unified employee inbox integrated with any HR case management solution
NGA HR Request Central – Direct visibility for employees and managers into the status of HR requests and workflows
NGA ID Sync - Seamless and automatic integration of employee IDs between SAP SuccessFactors and enterprise identity management systems.
"We're in the early stages of a major evolution in HR. These advancements are being driven by the journey towards Digital HR and HR-as-a-Service. However, as organizations take advantage of Cloud HR solutions they may experience gaps between existing and future business processes. XtendHR addresses and bridges these gaps." explains Russell Sheldon, CIO & SVP Digital HR Services at NGA Human Resources.
"Our dedicated and specialist team at XtendHR is focused on the development pipeline of 50 apps. You don't need to be using Cloud HR solutions to take advantage of our apps as they work with and connect to OnPremise technology as well" explains Amit Soni, Technology Leader at XtendHR.
About XtendHR
XtendHR is the Digital HR Apps and Extensions business of NGA Human Resources. It is the world's first business dedicated to developing HR Apps for the Hana Cloud Platform. XtendHR already has five Digital HR Extension Apps live, 10 more in development and a pipeline of 50, all designed to bridge gaps between OnPremise and Cloud processes. XtendHR also builds bespoke Apps to meet very specific HR and business process objectives.
About NGA Human Resources
At NGA Human Resources, our mission is to make HR work better. We help organizations worldwide pioneer digital HR, master payroll, ensure compliance, unlock workforce data, and deliver best-in-class HR operations. As a result, HR leaders can create better employee experiences, save money, and transform their organizations.
NGA HR is acknowledged by SAP to be a top five Hana Cloud Platform App developer, and the leader for core HR apps, and by the advisor community to be a Digital HR leader.
More information
Find more information on NGA Human Resources and solutions for the future of HR and payroll at http://www.ngahr.com
Connect with NGA Human Resources via
http://www.ngahr.com
http://www.ngahr.com/blog
http://twitter.com/NGAHR
Media Contact
Caroline Garstang Howlett
Tel: +44 7814 589425
Email: caroline.garstang(at)ngahr(dot)com