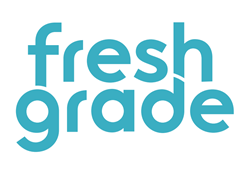 It's imperative to recognize Companies-to-Watch winners for their early stage growth, bold entrepreneurship and forward thinking.
Kelowna, British Columbia (PRWEB) November 30, 2016
FreshGrade was recognized with a Companies-to-Watch Award, as part of the Deloitte's Technology Fast 50™ Awards for its innovative technology, leadership and early stage growth.
Now in its 19th year, the Companies-to-Watch Award honors early-stage Canadian technology companies in business for less than four years. The winners are selected based on the potential they show for future growth. They exemplify many characteristics of Deloitte Technology Fast 50 ranked companies.
FreshGrade's COO and President, Chris Besse, credits "a real shift away from what we would call the diagnostic or summative assessment to more focus on formative assessment, which is understanding how children are learning," with the company's early stage success. Besse said, "Where is their learning, what does that learning journey look like, and how do we capture evidence of that learning?"
Besse continued, "With FreshGrade, what you can now do is provide the tools for teachers and students to document and capture their learning. For example, we can capture video or audio of a learner's reading. We can look at reading and hear a student's reading in September. We can understand where the deficiencies might be and what we might need to work on. At the same time, for that child to hear his reading in an audio recording and for the parent to hear that, that's powerful. They can all understand where they're at, where they're trying to get to. In November, when they document the reading again, they can see where the improvements were made. The child is engaged because he sees improvement. Report cards can be very disengaging for students. By documenting the process, they can see their progress. For parents as well to be part of that learning process and understand where their child is, it demystifies learning for parents. And I think that's the real key."
"It's imperative to recognize Companies-to-Watch winners for their early stage growth, bold entrepreneurship and forward thinking," said Anders McKenzie, Technology, Media and Telecommunications Managing Partner for Deloitte in Canada. "By demonstrating high growth potential, these outstanding companies have the potential to be future Deloitte Technology Fast 50 candidates. They represent the next generation of technology leaders in Canada."
To qualify for the Companies-to-Watch Awards, candidates must have been operating less than four years. They must also be headquartered in Canada and devote a significant portion of their operating revenues to creating proprietary technology and/or intellectual property.
About the Deloitte Technology Fast 50™ - The Deloitte Technology Fast 50 program is Canada's pre-eminent technology awards program. Celebrating business growth, innovation and entrepreneurship, the program features three distinct categories including the Technology Fast 50 Ranking, Companies-to-Watch Awards (early-stage Canadian tech companies in business less than four years, with the potential to be a future Deloitte Technology Fast 50 candidate) and the Leadership Awards (companies that demonstrate technological leadership and innovation within the industry). Program sponsors include Deloitte, Aequitas NEO Exchange, Bank of Montreal, Bennett Jones, OMERS Ventures and Vistara Capital Partners. For further information, visit http://www.fast50.ca.
About FreshGrade - FreshGrade develops solutions that enable educators, empower students, and engage parents in the evolution of education by allowing real-time demonstration of student learning to increase student engagement and success. FreshGrade is now available to school districts in the US nationwide. For information, visit http://www.freshgrade.com, email info(at)freshgrade.com, or phone +1 -877-957-7757.