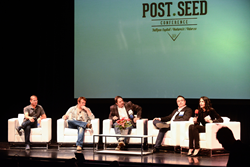 San Francisco, California (PRWEB) November 29, 2016
Among the prominent investors are two operators-turned-VCs: Aydin Senkut, an early employee at Google, who built up his venture firm in the past decade to become one of the premier early-stage firms in Silicon Valley, as well as Chamath Palihapitya, formerly at Facebook, and now a major player in venture with his fund Social+Capital Partnership.
WHAT: Post Seed 2016 Conference
DATE: Dec. 1, 2016
PLACE: The Village, San Francisco, CA
TIME: 8:00am-6:00pm
PRICE: Day-Of Walk-Ins: $725. Get tickets here: http://bit.ly/postseed
CONTACT: RSVP email press(at)vator(dot)tv
Topics to cover:
Tech's hottest IPO: Twilio Founder and CEO Jeff Lawson, who took his company public this year, sits down with Bessemer Partner Byron Deeter.
Silicon Valley and a new administration: What do top VCs think about the incoming administration? How can Silicon Valley be influential in policies regarding trade, innovation, jobs and more!
Rising above the crowd: Chamath Palihapitya and Ayden Senkut are becoming the establishment in Silicon Valley; Hear how they re-invented venture capital.
M&A is on the rise: How to get bought and not sold; Ezra Roizen talks to Rolfe Winkler of the Wall Street Journal on the right way to approach M&A.
Getting to Super-Sized A's and attracting VC capital: Hear from VCs at Thrive Capital, Sequoia Capital, Accel Partners, Liquid 2 Ventures and more.
Winning at baseball and investing: Dan Scheinman, angel investor and Co-Owner of the SF Giants sits down with Paul Martino, Partner at Bullpen.
We expect tickets for this day-long event will sell out quickly. Mark your calendar for December 1st in San Francisco and REGISTER HERE!
Want more info about what Post Seed is all about? Check out the website.