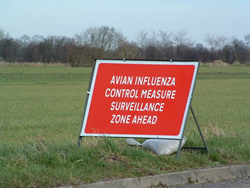 Chicago, IL (PRWEB) November 30, 2016
With winter fast approaching, authorities around the world are addressing the current and potential outbreaks of avian influenza, which can be transmitted from wild birds to poultry and other farm birds, prompting the destruction of the infected farms and animals. Bird control company Bird-X has relaunched an Avian Influenza page to educate consumers and farmers about how to prevent spreading the virus by means of exclusionary physical deterrents, as well as access to the World Health Organization Monthly Risk Assessment Summaries.
As the Bird-X Avian Influenza page notes, information has been released by U.S. Agriculture Department officials stating that different strains of the virus have been found across the United States, the two most prevalent being H5N8 and H5N2. Monitoring of H5 is ongoing, and outbreaks recur in the fall and winter. H5 outbreaks, while they may vary, are all linked. They are spread through bird migratory pathways worldwide, infecting many countries. The most notable outbreak was in China, where the H5N8 strain was first found. Considering migratory birds are the cause of the international spread of the virus to domestic poultry farms and beyond, a comprehensive bird control program to keep potentially-infected birds out of unwanted spaces is the safest option for peace of mind and public health.
The Bird-X page states, "An important fact to note is the risk of avian influenza is far greater during the spring and fall months, when wild birds migrate north and south, putting domestic birds caught in the middle in harm's way."
Over one million chickens and ducks have already been slaughtered across Europe, with the Netherlands accounting for nearly 190,000 culled ducks, BBC reports this week. This is an attempt to prevent the H5N8 strain from spreading to other animals. Health authorities in the Netherlands most notably culled 30 million birds in 2003 in an effort to suppress an outbreak. The World Health Organization warns of more outbreaks likely to spread across Europe as wild birds migrate southward with the virus. Culling information is steadily being released, as the agriculture ministry of Korea informed Reuters, 513,000 chickens and 489,000 ducks destroyed in South Korea since November 16th.
A major concern with any outbreak of avian influenza is the ability of the virus to mutate across species, raising the specter of a human flu pandemic. While this has not yet occurred, it is considered a significant threat to world health because of widespread international travel and the close proximity of many poultry farmers & families to their flocks. Bird-X advises those who experience flu-like symptoms after coming in contact with wild or domestic birds to seek medical attention immediately. According to the Centers for Disease Control and Prevention, consuming properly handled poultry or eggs will not result in infection. The two strains of avian influenza which are most dangerous to humans are H5N1 and H7N9.
Bird-X, Inc. has spent over 50 years protecting public areas from over 60 bird-spread transmissible diseases. The leading international brand of humane bird control solutions, this Chicago-based company manufactures a complete line of unique bird control products, protecting the health of humans, wildlife, and the environment by deterring birds from unwanted areas without harming them.
For information on any of Bird-X's humane pest control products, please call customer service at (800) 662-5021.