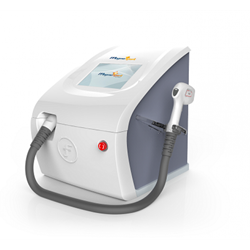 "We look forward to helping medical professionals & provide insights on how they can grow their practice by increasing cash visits rather than insurance reimbursements," commented NY Laser Outlet's sales manager Don Barresi
New York, NY (PRWEB) November 30, 2016
NY Laser Outlet, a leading provider of sales and service in the pre-owned medical laser market, has announced that it will be exhibiting at the Cutting Edge Aesthetic Surgery Symposium, which will take place on December 1-3, 2016 at the Waldorf Astoria hotel in New York City.
In addition to providing symposium attendees with advice on how to safely and successfully purchase, rent or repair aesthetic laser equipment, the NY Laser Outlet team will be showcasing the latest addition to its product line-up: the Magma Spark, a revolutionary diode laser hair device by Formatk that received FDA approval in mid-November.
"We look forward to connecting with medical professionals at the symposium, and providing insights on how they can grow their practice by increasing cash purchases rather than insurance reimbursements," commented NY Laser Outlet's sales manager Don Barresi. "We also expect that the Magma Spark will generate a tremendous amount of excitement. In terms of its leading-edge technology and price position, it's an industry and marketplace game changer." As a boost, NY Laser Outlet is offering a 20% discount on all cosmetic laser equipment sold at the Cutting Edge Symposium.
Now in its 36th year, the Cutting Edge 2016 Aesthetic Surgery Symposium is an advanced comprehensive course covering all aspects of rhinoplasty. For three days, a world-renowned faculty of plastic surgeons and facial plastic surgeons will present advanced nasal sculpting with open and closed rhinoplasty techniques. The agenda includes 49 video presentations, 9 keynote sessions, and 50 technical and commercial exhibits. For more information on the Symposium, including a program guide, exhibitor directory and photo gallery, visit https://www.nypsf.org.
For more information on NY Laser Outlet, including a complimentary white paper entitled "10 Things You Need to Know Before Buying a New or Used Cosmetic Laser," visit https://www.nypsf.org.
For all other details, including sales consultations, contact NY Laser Outlet through its website or visit the company's mid-Manhattan showroom at 363 7th Avenue, New York, NY 10001. Business hours are Monday through Friday from 9am-8pm.