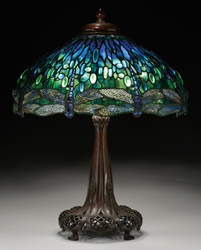 Fairfield, Maine (PRWEB) December 01, 2016
James D. Julia's Fall Lamp & Glass Auction was the largest grossing Lamp & Glass sale in the history of the company at well over $3 million dollars.  It consisted of a one-day sale rather than the normal 2 + days auction.  Perhaps the most notable thing about the sale was the fact that this great success was accomplished by Mike Fredericks, Department Head of Lamp & Glass, together with Mark Ford, CEO, and the Julia team but lacking owners, Jim and Sandy Julia, both. 
 
Jim Julia has been involved in the antiques and auction business for nearly 50 years now and up until this auction, has never missed an auction.  A few days prior to the auction, his wife Sandy received devastating news that she had cancer and for the first time in 50 years, Jim found something more important than an auction to attend to. 
Jim shares, "Sandy had her operation on Wednesday, November 23rd, the day before Thanksgiving. We were praying and hopeful that it would be a success, and that indeed is the case. Sandy is the sweetest, most pleasant, and positive thinking human being I have ever known and over these past days throughout this ordeal she has maintained her extraordinary attitude but she has also been incredibly bolstered by the well wishes, cards, and emails she has received from friends everywhere.  It seems as though everyone is pulling for her and it means a great deal to her. 
 
"People have asked me if this means that I might be getting out of the auction business.  Hell no!  One of the great New England auctioneers, Dick Withington, continued to do auctions until he was 90 years old.  My father who is 89 years old still buys and sells and when I grow up, I want to be just like both of them.  Sandy and I love the business, we love the people, we love our team and we have no interest or inclination to walk away from it.  Five years ago however, we did make a long range plan to ensure the success and continuation of our company by bringing on board my longtime friend Mark Ford, who is an incredibly sharp businessman and who for most of his life was part owner and managed a major New England business.  Mark became CEO of our company and for over 4 years now has been taking an increasing part in the day to day operations.  Our goal was essentially to have Mark run the business while Sandy and I would continue to serve as President and Vice President and be part of the business but not have to deal with the majority of the day to day details.  As of early 2016, Mark had effectively taken over the business and has been running it throughout the year.  This, of course, is fortuitous for Sandy and I and our company.  Our being present or absent from this past sale virtually made no difference and until Sandy is better and she and I can be part of the business again, Mark and our incredible team will continue to run and drive the company based on the same principles, philosophy and dedication to our client's that has made us so successful over these past many years.
 
"I also want to say that as soon as word got out, Sandy has been inundated with well wishes, emails, cards encouraging her and they have been a tremendous support to her.  Her daughter recently developed a page on Facebook, "Sandy Julia's Fight".  Anyone wishing to check in, follow or support Sandy can do so from there or by directly contacting our company.  If you contact our company and wish to direct any wishes or sentiment, please do so through my Executive Assistant, Nancy Noonan.
 
"Both Sandy and I look forward to returning to work and once again working with all the great customers and friends we have established relationships with over these many years. Thank you for your support."
Now onto our sales results highlights!
Tiffany lighting unquestionably took the spotlight in this sale, with several generating big six figures. Many examples on offer came directly from private collections across North America. Lot 1259, a drop-head Dragonfly lamp - the most desirable of all of Tiffany's dragonfly designs - was estimated at $120,000-180,000 but generated a jaw-dropping $515,475. This beauty featured a phenomenal reticulated base and a leaded glass shade with rich green to deep blue transitions and purple dragonfly bodies; its shade was signed "Tiffany Studios New York 1507-22" on the interior. Lot 1216, a Peony table lamp was estimated at $150,000-250,000 and made $391,050. This world-class example had an untouched, rare Mosaic Turtleback base and a red, pink, white, blue, and green leaded glass shade, signed "Tiffany Studios New York 1505-25." Lot 1305, a Poppy table lamp on a bronze cattail lily pond base was estimated at $50,000-70,000 and realized $219,225. Its shade, signed "Tiffany Studios New York 1531-3," featured an outstanding, multi-colored background, leaves of confetti, and rippled and mottled glass on a most desirable base.
Other Tiffany lighting highlights included lot 1229, a peony table lamp that was estimated at $60,000-80,000 and made $71,100; lot 1299, a daffodil table lamp that was estimated at $45,000-65,000 and bloomed at $56,288; and lot 1266, a turtleback lantern that was estimated at $22,000-26,000 and realized $36,735.
Lighting by Handel also did extremely well in this sale. Lot 1346, a signed stream scene lamp, was estimated at $15,000-25,000 and wound its way to $17,775. This handsome example had an original "tree trunk" base and a shade decorated with a woodland stream, meandering rocky banks, foliage, tree trunks, and rocks, all painted in the fall colors of green, brown, red, and amber. And lot 1363, a reverse painted chrysanthemum lamp estimated at $4,000-6,000, blossomed at $10,665.
Julia's offering of remarkable French art glass, many from a meticulously curated Midwestern collection, really caught the eye of collectors. Examples from Daum, sold at the very beginning of the sale, proved early highlights. These included lot 1005, a Prairie pitcher decorated in a grassland theme that was estimated at $15,000-20,000 and made $23,700; lot 1009, an enameled vase with butterflies and bees that was estimated at $10,000-15,000 and took flight at $18,960; lot 1013, a monumental cameo and enameled vase with fuchsia flowers that was estimated at $10,000-15,000 and realized $17,775; and lot 1019, a cameo and enameled vase with geranium flowers that was estimated at $9,000-12,000 and sold for $16,590.
The Galle offerings in this sale, many featuring floral themes, also proved quite attractive to buyers. Lot 1058, a marquetry crocus vase - one of the most sought-after Galle pieces of all time - was estimated at $50,000-70,000 and realized $52,733. Other Galle highlights include lot 1073, an enameled box decorated with colorful flowers which was estimated at $2,500-3,500 and made $8,295, and lot 1085A, an early enameled boat-shaped vase decorated with forget me nots that was estimated at $1,500-2,500 and sold for a memorable $8,888.
This auction also offered a great selection of art glass from other world class French manufacturers. Several Rousseau/Walter Pate De Verre examples generated noteworthy results. Lot 1091, a signed Almeric Walter moth paperweight was estimated at $2,000-3,000 and took wing at $5,333. And lot 1102, a stunning vase decorated with a line of black wolves walking on snow against a purple and gray background was estimated at $30,000-40,000 and realized $34,958. Fine Lalique examples also had a strong showing; lot 1141, an Aigrettes vase detailed with exotic birds in flight and fern leaves was estimated at $1,500-2,500 soared to $6,221.
Tiffany metal wear made a highly decorative appearance in this sales event. Beverage pots were a key category here, and generated impressive interest and results. Lot 1409, a signed, mixed metal Japanese style hot cocoa pot estimated at $10,000-15,000 was warmly received and realized $40,290. This absolute rarity was decorated with applied silver squash vines, gold and copper gourds, gold squash blossoms, and gold and copper applied dragonflies. Lot 1410, a mixed metal triangular shaped teapot decorated with applied copper and gold leaves, incised vines, copper and silver butterflies, and a gold and copper applied dragonfly, was estimated at $3,000-5,000 and achieved a proper $17,775. And lot 1411, a sterling silver coffee pot entirely covered in the "wisteria" pattern was estimated at $3,000-5,000 and made $14,220.
The fine contemporary glass sculptures, vases, and decorative items added a splash of modern color to this comprehensive sale. Lot 1713, a signed, oval Toots Zynsky art glass bowl was estimated at $2,500-3,000 and realized $7,999. And it was game on with lot 1711, a signed sterling silver and gold plated sterling silver Salvador Dali/F.J. Cooper chess set, estimated at $5,000-7,000. This most unusual offering, complete with a black and white marble chess board, checkmated at $17,775.
This sale rounded out with an outstanding selection of rings, bracelets, necklaces, and earrings, with designs ranging from Victorian to Art Deco, to contemporary styling. Lot 1510, a Buccellati 18kt gold, ruby, and diamond cuff set with cushion shaped rubies, round diamonds, and smaller white gold and diamond bursts, was estimated at $20,000-30,000 and realized $23,700. Lot 1476, retro citrine, ruby, and diamond ring was estimated at $1,500-2,000 and made $2,963. And lot 1541, a sapphire and diamond circle pin was estimated at $1,800-2,200 and came around to $2,370.
About James D. Julia, Inc.:
James D. Julia, Inc., one of the top ten antique auction houses in the nation, is headquartered in Fairfield, Maine. The company also has an office in Boston, Massachusetts. In business for over 40 years, the company conducts high-end antique, collectible, and decorative arts auctions throughout the year. Julia's routinely establishes new world records through its sales events. Julia's has three key divisions, including rare firearms and militaria; fine and Asian art and antiques; and lamps, glass and fine jewelry. Each division is staffed by leading experts and is internationally recognized and respected.
We have already started gathering consignments for our next Lamps, Glass, and Fine Jewelry sale, scheduled for June, 2017. For more information on James D. Julia, Inc. and our fine Lamps, Glass, and Fine Jewelry division, please visit http://www.jamesdjulia.com