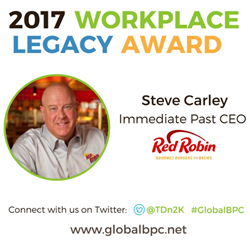 Playing a role in making others successful in their career journeys, one person at a time, is my definition of making a positive difference in the world - Steve Carley
Dallas, TX (PRWEB) November 30, 2016
TDn2K™ announced today that Steve Carley, immediate past CEO of Red Robin, is the recipient of the 2017 Workplace Legacy Award. This prestigious honor will be awarded at the 2017 Global Best Practices Conference to be held in late January in Dallas, Texas.
The Workplace Legacy Award, presented for the first time in 2005 to Joe Lee, then Chairman of Darden Restaurants, recognizes a leader in the restaurant industry who has demonstrated success in balancing superior people practices and best in class operational results. In addition, their employees, organizations and communities have benefited from their leadership.
"I am honored and humbled to receive the Workplace Legacy Award. What has always driven my enthusiasm for this business is the people. Playing a role in making others successful in their career journeys, one person at a time, is my definition of making a positive difference in the world," said Carley.
"Steve Carley is an exceptional leader who always made it about his people and never sought the limelight. His vision and discipline as an operator was remarkable, and his team was always the cornerstone. It is a privilege to be able to honor him with the Workplace Legacy Award." said Joni Thomas Doolin, CEO and Founder of TDn2K.
Carley joined Red Robin as Chief Executive Officer in September 2010. Prior to his leadership role at Red Robin, He served as Chief Executive Officer and President of El Pollo Loco, Inc. Previously, while at PepsiCo, Inc., he served in various senior management positions for Taco Bell. Earlier in his career, he was President of Universal Studios Hollywood Theme Park and Citywalk, a division of Universal Studios, Inc., and spent several years in brand management and operations with General Mills, Inc., and The Pillsbury Company. Carley announced plans to retire from Red Robin at the end of 2016 and currently serves as an advisor to the company. Denny Marie Post was named as his successor and appointed Red Robin CEO in August 2016.
Previous winners of the Workplace Legacy Award include: Sally Smith of Buffalo Wild Wings, John Miller of Denny's, Greg Creed of Taco Bell and Jerry Deitchle of BJ's Restaurants. These leaders clearly demonstrate commitment to leading people first cultures that also win in the marketplace.
About the Global Best Practices Conference: This exclusive event, now in its 22nd year, is home to hundreds of restaurant industry senior leadership and c-suite executives who gather to share best practices, network, learn, celebrate and honor the winners of the Best Practices Awards, Diamond Catalyst Award, Workplace Legacy Award and the Heart of the Workplace Award. The 2017 event will be hosted January 29 -31st in Dallas, Texas at the Hilton Granite Park. http://www.globalbpc.net
TDn2K™ (Transforming Data into Knowledge) is the parent company of People Report™, Black Box Intelligence™ and White Box Social Intelligence™. People Report provides service-sector human capital and workforce analytics for its members on a monthly basis. Black Box Intelligence provides weekly financial and market level data for the restaurant industry. White Box Social Intelligence delivers consumer insights and reveals online brand health. TDn2K membership represents 37,000 restaurant units, over 2.1 million employees and $65 billion in sales. They are also the producers of leading restaurant industry events including the Global Best Practices Conference held annually each January in Dallas, Texas.