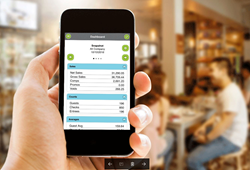 (PRWEB) November 30, 2016
Ctuit Software offers comprehensive restaurant management solutions to help restaurants reduce food and labor costs while streamlining operations. On The Fly™ is Ctuit's mobile app, and it delivers the crucial data needed to make instantly informed decisions. Users can employ On The Fly™ in conjunction with RADAR, to monitor sales, labor, product mix, and to check level detail at both the organization and store level. With this tool, mangers can make immediate decisions to positively impact operations, using the convenience of their mobile device.
Version 3.1 of On The Fly™ unveils the ability for restaurant managers to take prep inventory counts directly from their tablet or mobile device. Additionally, users can assign barcodes to stored ingredients when taking inventory, and can upload photos of invoices to further alleviate the pain points associated with controlling food costs. These features will further streamline restaurant operations with less time spent on data entry and more time spent on customer and employee interactions.
This new functionality rounds out this robust tool, which already offers sales and labor insights, an online communication log, the ability to manage employee schedules, and cost of goods controls.
Ctuit has three products to help restaurants succeed: RADAR, On The Fly™ , and Ctuit Schedules. RADAR streamlines restaurant activities and provides management teams with insight to financial and operational performance. On The Fly™ is a mobile app powered by RADAR that connects managers to vital restaurant data in real time. Ctuit Schedules allows employees to receive schedules, trade shifts, request time off, and send messages through any mobile device.
For more information on improving your restaurant's efficiency and profitability, please visit http://www.ctuit.com.