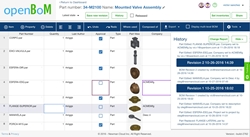 we are making openBoM the preferred choice for teams managing BOMs across distributed networks of engineers, manufacturing contractors, and suppliers
Newton, MA (PRWEB) December 01, 2016
openBoM the world's first cloud BOM management tool specifically designed to help manufacturing companies manage and track BOMs across organizational and geographic boundaries introduced features which continue to surpass those of traditional BOM spreadsheets. Available now to openBoM users, new features include improved BOM visualization, improved BOM and inventory information, seamless updates of design changes from CAD documents into a BOM, and enhanced Team administration and data sharing capabilities. These features are designed to help teams working across distributed environments collaborate more effectively on their BOM and avoid the pain, communication errors, and manual data entry mistakes which occur with managing and tracking BOMs using spreadsheets. A summary of what's been released follows.
Improved BOM visualization
Filter a BOM by any property values. Useful when working on specific components in a large BOM. Can also be used for mass-replacing scenarios.
Change the order and position of BOM properties using drag & drop.
Improved BOM and Inventory management
Augmented BOM and Inventory views allow users to select and add desired item properties from an assigned inventory to a BOM view.
Mark a BOM as "Released" and lock it as read-only.
Introduced new "Checkbox" BOM property type.
Improved CAD/BOM integration
Seamless merge of design changes into a BOM when changes are made in CAD. This new feature gives users the ability to make simultaneous changes to a shared BOM between engineering and manufacturing teams whilst at the same time, automatically update changes in the BOM made by design engineers in CAD.
Part list option for creating multi-assembly BOM and automatically calculating parts lists with updated quantities when changes occur to an assembly.
A variety of new CAD BOM configuration options not available to spreadsheet users: Solidworks BOM tables, Autodesk Inventor BOM structure options, Solid Edge BOM reports and more. These integration options provide users seamless data transfers between CAD and BOM without requiring additional data mapping and configuration tools.
The following CAD systems include the new integration features:
• Autodesk® Inventor™
• Autodesk® Fusion 360™
• Dassault Systemes SOLIDWORKS®
• Siemens PLM Solid Edge® ST9
• Creo™, NX™ and CATIA™ are available as on-demand services for Enterprise customers
Improved Team Admin and data sharing
Grant automatic sharing, viewing, and editing of a BOM across entire team.
Enable & disable user BOM access rights.
Demonstration videos are available on the openBoM tutorial site.
"Today's announcement significantly expands openBoM's existing feature set and enhances our out-of-the-box CAD integration as requested by our users. By responding to our user's feedback and working with our CAD partners, we are making openBoM the preferred choice for teams managing BOMs across distributed networks of engineers, manufacturing contractors, and suppliers," said Oleg Shilovitsky, CEO and Co-founder of openBoM.
"As an openBoM partner, Siemens PLM Software – and its customers – benefit from the progress openBoM is making toward enabling Solid Edge® software users to utilize the cloud to work on their BoMs and collaborate across teams and locations," said John Miller, Senior Vice President, Mainstream Engineering Software, Siemens PLM Software.
About openBoM.
openBoM was co-founded by Oleg Shilovitsky and Vic Sanchez, both experienced software industry veterans. It is a cloud data management tool that removes the traditional pain of managing BoMs across organizational and geographic boundaries. Headquartered in the Boston, MA area, openBoM's website is at http://www.openbom.com. Learn more how openBoM is the new alternative to BoM spreadsheets. For more information or questions please contact vic(at)openbom(dot)com. openBoM is a wholly owned and branded product of Newman Cloud, Inc.