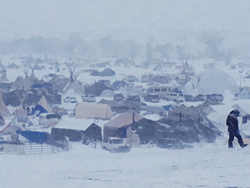 "This is treaty territory, and no one has jurisdiction here except for our people," said Phyllis Young, spokeswoman for the Standing Rock Sioux Tribe during a press conference yesterday evening.
(PRWEB) November 29, 2016
The Standing Rock Sioux Tribe responded to North Dakota Governor Jack Dalrymple's executive order issued Monday, which called for an emergency evacuation of the Oceti Sakowin Camp, declaring that they will not be moved.
"This is treaty territory, and no one has jurisdiction here except for our people," said Phyllis Young, spokeswoman for the Standing Rock Sioux Tribe during a press conference yesterday evening.
The camp's location is on unceded territory affirmed by the 1851 Fort Laramie Treaty as sovereign land under the control of the Oceti Sakowin, the seven bands of the Lakota, Dakota and Nakota Nations, Young explains.
Governor Dalrymple ordered the camp to "vacate due to public safety concerns related to the inability to provide emergency services," and declared that "any action or inaction taken by any party which encourages persons to enter, reenter or remain in the evacuation area will be subject to penalties as defined in law."
The Governor further directs "state agencies, emergency service officials, and nongovernmental organizations to reduce threats to public safety by not guaranteeing the provision of emergency and other governmental and nongovernmental services in the evacuation area."
With a winter storm raging outside the press conference at the Prairie Knights Casino on the Standing Rock Reservation, Young says she is not concerned about the threat, adding "we have lived for generations in this kind of setting and we have survived." She says they have a team of people in the medical field who will be on site to address any health concerns.
The executive order comes three days after the Army Corps of Engineers issued an eviction notice demanding the evacuation of the camp effective December 5th. Organizers say they have no plans to leave and will remain until the Dakota Access Pipeline is defeated.
The Standing Rock Medic Healer's Council released a letter Monday calling for the revocation of the December 5th eviction notice as well as the removal of the barbed wire wrapped cement blockade on Highway 1806 in order to "prevent unnecessary further morbidity and mortality."
North Dakota officials announced today they will begin blocking supplies from reaching Water Protectors at camp in an effort to force them to vacate the area.
The Dakota Access Pipeline (DAPL) has been decried by more than seven hundred tribes and organizations worldwide as a dangerous project that has already destroyed sacred places and could toxify the large Ogallala aquifer serving eight states, Lake Oahe, as well as contaminate the waterways used by the people of Standing Rock and millions of people downstream on the Missouri River.
Sunoco Logistics Partners, the future operators of the DAPL has spilled crude oil more than any of its competitors, with more than 200 leaks since 2010.
Tara Houska, former Native American advisor for the Bernie Sanders campaign and one of the speakers at Monday's press conference, says she is appalled by President Obama's lackadaisical response to the "human rights situation happening within the U.S borders to Indigenous peoples."
On the night of the 20th, the Water Protectors were fired upon with rubber bullets and sandbags, while facing tear gas, concussion grenades, and water cannons. The assault resulted in more than three hundred people being injured, with 26 people taken to an emergency room, as well as a young woman having her arm blown apart. One police officer was injured during the action.
The Morton County Sheriff's department has denied using water cannons and concussion grenades, but eyewitness accounts, as well as video footage, reveal they are not being truthful about their tactics. President Obama hasn't responded since he said "we're going to let it play out for several more weeks" on November 2nd.
"People are getting hurt," says Houska, "I hope that President Obama has a change of heart before he leaves office, because his legacy for Indian Country is looking pretty grim."
Thomas Lopez Junior, a member of the Indigenous Youth Council, is disappointed in the response from the White House in the face of "brutality from the Morton County Police Department and the National Guard."
"When you came here in 2014 you promised to protect tribal sovereignty and spiritual belief, you promised to protect our sacred way of life and here we are today standing up for our sacred way of life. Where are you?" he said. "You're in silence."
Co-counsel for the Native American Rights Committee for the American Civil Liberties Union National office during the infamous 1973 Wounded Knee Occupation, Daniel Sheehan, says he hopes the response to this occupation will not be as unreasonable. The 71 day occupation resulted in dozens of injuries and two deaths.
"There have been some dangerous signs that Governor Dalrymple and the North Dakota law enforcement community have been tempted to respond in the same manner that the Nixon Administration and the South Dakota Governor had 34 years ago," he said.
"The leaders of the major camps at the site have spoken stating they are not leaving. They are convinced the Governor has no legal authority to tell anyone in that area to leave," said Sheehan, Chief Counsel for the Lakota People's Law Project. "The tribal council will be discussing whether to issue a formal invitation to the Water Protectors to stay and pray for the stopping of the pipeline on these traditional lands of the Oceti Sakowin Oyate."
Sheehan says the tribal council meeting today has been postponed due to the present blizzard. He hopes such an invitation will be announced prior to Donald Trump taking office.
President elect Donald Trump's victory has worried Water Protectors. In his one-hundred day plan Trump declares that he will "lift the Obama-Clinton roadblocks and allow vital energy infrastructure projects, like the Keystone Pipeline, to move forward." Trump has personally invested more than $500,000 in Energy Transfer Partners, the pipeline's developer.
Emerson Little Elk, a young man from Rosebud, South Dakota, was shot with a sandbag during the November 20th assault, and like many others at the Oceti Sakowin Camp he considers this to be his home. He's been living at camp since September 2nd and has no plans to leave until the pipeline is halted.
"I want kids one day and I want them to have clean water," he says. "I can't imagine our children smiling or laughing if there's no clean water."