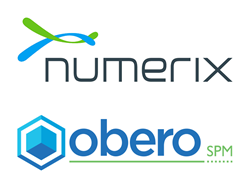 New York, NY (PRWEB) December 07, 2016
Numerix, the leading provider of cross-asset analytics for derivatives valuations and risk management today announces that it has selected Obero SPM to provide advanced sales performance management capabilities to its executive leadership team.
Numerix has grown considerably and its old system for compensation management was unable to keep up with their needs in areas like forecasting, modeling, multi-currency, and partner enablement. Numerix was looking for a sales performance management solution that could unlock opportunities for growth across multiple global business units.
"Our company is built around providing its clients with a holistic view of risk. Obero SPM stood out by sharing our approach and giving us that same holistic view of our sales performance programs. Obero SPM integrates seamlessly with our CRM and ERP systems, and bridges the gap between our finance, sales, HR, and IT departments," said Diane Redvanly, SVP Finance at Numerix.
Obero SPM's native integration with NetSuite and Salesforce will allow Numerix to manage multiple business entities and currencies across the globe and will empower their senior executives to plan, forecast, model, manage and report on their sales compensation success. Numerix management will be able to calculate accruals, pay splits to partners, and change plans at any time with independence from any vendor's delta teams.
"Numerix is a growth company that has shown its nimbleness throughout its history. We're happy to give Numerix the agility it needs to implement and manage world class sales performance strategies to fuel its ongoing growth," said Leon Kharkhourin, CEO at Obero.
About Numerix
Numerix is the award winning, leading independent analytics institution providing cross-asset solutions for structuring, pre-trade price discovery, trade capture, valuation and portfolio management of derivatives and structured products. Since its inception in 1996, over 700 clients and 90 partners across more than 26 countries have come to rely on Numerix analytics for speed and accuracy in valuing and managing the most sophisticated financial instruments. With offices in New York, Boston, Chicago, Los Angeles, Mexico City, Miami, Vancouver, London, Paris, Milan, Helsinki, Frankfurt, Dubai, Beijing, Mumbai, Hong Kong, Seoul, Singapore, Sydney, Tokyo and Taipei, Numerix brings together unparalleled expertise across all asset classes and engineering disciplines. For more information please visit http://www.numerix.com.
About Obero
Obero is a privately held global company with offices in the United States, Canada, and Europe. Developer and provider of Obero SPM, a cloud-based Sales Performance Management solution which supports the entire end to end sales life cycle; automating processes for the office of Sales, Finance and HR. Obero SPM integrates the Sales Planning and Forecasting, Incentive Compensation Management and Sales Profitability Management processes in a single unified application. Obero has been ranked as one of Canada's top technology companies; included in the Top 10 Growth, Top 25 Up and Coming, and Top 250 Canadian ICT categories in the 2014 and 2015 editions of Branham 300. Obero SPM has recently been recognized in the Top 20 Corporate Finance Technology Solutions by CIO Review and as a Momentum Company of the Year by TechConnex. For more information please visit http://www.OberoSPM.com.