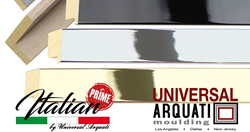 Santa Clarita, (PRWEB) November 30, 2016
Members of the American Society of Interior Designers can now look to Universal Arquati as their first resource for design knowledge and inspiration. Their new improved Frame fulfillment service improves their Clients experience. In addition, their new website offers a Wish Cart and Expedited Sample Request System. Many years of experience, and high quality, unique products and services set them apart from the competition and other run-of-the-mill framing sources.
Universal Arquati is a recognized leader in picture frame molding with almost 60 years of experience in the industry. Universal Arquati is established and adaptable enough to fulfill large and small scale orders for framing components and now, they provide custom and fully finished frame orders, of any amount for Interior Designers, Art Consultants, and Art Framing Supply Designers. In addition, Universal Arquati works extensively with the Hospitality, Mirror, Glass and Shower Door Industries.
"Our framing fulfillment service is ideal for clients who want to streamline their process and hire one company that can design, build, and deliver a beautiful and unique finished product. Because of our years of experience, we are well-versed and confident that we can help you in any capacity you may need us," Said Mark Gottlieb of Universal Arquati.
"All of our products are sourced from the finest makers in Italy, giving designers a diverse, one-of-a-kind, and high-quality finished product. Designers can look to our products for design inspiration with dozens of textures, colors, designs, and materials to choose from. We have options for the most conservative and the most extravagant budgets and, because we have our own equipment, none of our work is outsourced ensuring your vision is carried out exactly to your specifications in a timely and cost-effective manner. We will work with you to design and craft a finished product that will make your client's vision come true. And our stunning and well-crafted frames will work effortlessly with any designer's eye for detail," Mark Gottlieb added.
Universal Arquati is an established company with three large locations across the nation, giving them easy access to supply products to any project, including, the ability to complete large scale projects such as those in the hospitality industry.
To help improve and expedite their framing fulfillment service, Universal Arquati recently created a user friendly new desktop and mobile friendly website: htttp://UniversalArquati.com. Website users can quickly create a professional account for at no cost to streamline their search and sample request needs to create the perfect products for their needs. Universal Arquati can also be reached by phone at: 800.668.3627.