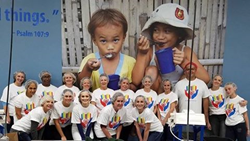 (PRWEB) November 30, 2016
This year for Giving Tuesday, ETC students, staff and host families joined Giving Tuesday's mission of giving back this charitable season. International students from 15 different countries took part in Giving Tuesday and volunteered by decorating Christmas trees for the Partnership of Warrenton in Virginia, serving Thanksgiving dinners to the homeless in Ohio and packing food boxes for Feed My Starving Children in Arizona, resulting in 83 children being fed in the Philippines for an entire year. ETC promotes volunteerism throughout the year and encourages students to spread the spirit of volunteering with friends, family and their community when they return home to their native countries. ETC students have been blessed with loving host families and Local Coordinators who have a passion and commitment for student exchange and students were excited to give back to their new communities who have welcomed them with open arms.
For more information about Giving Tuesday visit http://www.givingtuesday.org
Host a student
ETC volunteer host families provide international students with a window in which to view and understand American life and culture. Students are expected to act as a member of the family. Students will participate in daily activities and chores, bond with their host siblings, and join in family conversations.
At the same time, the students will be sharing their culture and values with their American families. Students are encouraged to bring pictures of their home country, cook their favorite meals for their host family and share holiday celebrations and traditions from their home country.
ETC's philosophy is to promote international goodwill and understanding through international student exchange experiences. It is ETC's belief that participation in hosting will foster a significant understanding of the values and attitudes of foreign cultures, while at the same time exposing foreign students to the uniqueness and diversity of American life.
Education at Home
So many of life's lessons are taught outside the classroom. Hosting takes the concepts of language class, world studies or geography out of the textbook and brings them to life. Moreover, through an international exchange student, hosting introduces children at an early age to the culture and diversity of another country. Whether talking at the dinner table, shooting hoops or just hanging out with an exchange student, children will absorb lasting memories that will influence the way they perceive the world.
Travel Without Going Anywhere
For many families, it is very difficult to arrange and pay for large family international vacations. Hosting a foreign exchange student allows families to bring the foreign country right into their own home. Countries cease to be distant places on a map and become a nation and culture that is dear to people's hearts.
Foreign Partners
ETC works directly with carefully screened agents in each of the countries we accept students from. These agents carefully screen the students and provide them with an orientation before they depart for the US. While the students are here in the US, the partner organization as acts as a liaison between ETC and the student's natural parents.
Special Activities
Each student can expect to participate in a variety of activities with their host family, Local Coordinator, and other ETC students. ETC hosts a fall welcome party, monthly local activities, holiday parties, 5 (optional) trips per year, and a spring farewell picnic.
American Public High Schools
Students with J-1 visas are placed in an American high school in their homestay community. Students are required to maintain passing grades and take classes in English and American History or Civics. Students are not permitted to take ESL or English immersion classes. Students who fail to maintain a C average will be required to hire a tutor at their own expense.
Financial Responsibilities
Students come with comprehensive medical insurance. Families are volunteers and are not expected to pay for student expenses. Students are responsible for their own personal expenses including school activity charges, class fees, clothes, travel expenses, entertainment, bus passes, long distance phone charges, and lunches purchased at school.
Learn About the World without Leaving Home
Broaden your family's horizons and make a big difference in the life of a young person who is courageous enough to leave family and friends for ten months to live with an unknown family in a strange land.
ETC is now accepting host family applications for 5 month and 10 month students. Every student has been carefully screened, speaks English, attends the host family's local high school, arrives with their own spending money and are covered by full medical insurance.
About Education, Travel & Culture
Education Travel & Culture is a non-profit [501(c)(3)] educational exchange organization. Its purpose is to promote international understanding and goodwill by providing high quality educational and cultural exchange programs in the United States and abroad. ETC provides inbound program opportunities for high school students throughout the world to study in an American high school and live with an American family.
For more information, FAQs or to apply to become a host family visit http://www.edutrav.org or email Field Director, Brenda Ferland at bferland(at)edutrav.org