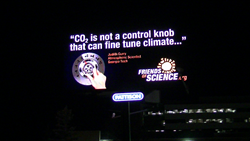 Fossil fuels now account for 81% of the world's energy supply and renewables just over one per cent. That situation will not change soon, easily or cheaply. Clearly, we are a long, long way away from a so-called low-carbon economy
Calgary, Alberta, Canada (PRWEB) November 30, 2016
Friends of Science Society is calling out anti-oil climate change groups like the David Suzuki Foundation for making misleading claims on oil subsidies and pipeline/tanker safety, as reported by the National Observer on Nov. 15, 2016, in response to Prime Minister Trudeau's announcement of approvals for the Kinder Morgan pipeline expansion to the West Coast, and Enbridge Line 3 replacement to the US as reported by the Calgary Herald Nov. 29, 2016. To help inform the public with the facts on pipelines and tankers, Friends of Science has published two new reports by Robert Lyman – "Moving Oil by Pipeline: Examining the Facts" and "Moving Oil by Tanker in Canada: The Facts."
"Keep Canada in the Black" is an earlier report issued by Friends of Science Society which debunked the oil subsidy claims of anti-oil activists.
"Anti-oil and climate change catastrophists were claiming the alleged subsidies should be diverted to spend on wind and solar," says Michelle Stirling, Communications Manager for Friends of Science Society. "There are no such subsidies in Canada and furthermore, all wind and solar devices are made from oil, natural gas and coal."
Key points of the recent International Energy Agency report are summarized on Friends of Science Society's blog, entitled "Facts and Fallacies on World Fossil Fuel Use vs Renewables," posted Nov. 14, 2016, and show that: "In 2014, the shares of primary energy supply by energy source were: oil, 31.3%; coal, 28.8%; natural gas, 21.0 %; biofuels and waste, 10.3%; nuclear, 4.8%; hydro, 2.4%; and "other", including all renewables energy sources, 1.4%. Fossil fuels now account for 81% of the world's energy supply and renewables just over one per cent."
"That situation will not change soon, easily or cheaply. Clearly, we are a long, long way away from a so-called low-carbon economy," says Stirling.
Vencore Weather forecasts cooler temperatures as the 2015 El Nino becomes a weak, cooler La Nina, and low solar activity begins to affect weather patterns, as reported on meteorologist Paul Dorian's blog.
Friends of Science holds the view that the sun is the main driver of climate change, not you and not CO2.
About
Friends of Science has spent a decade reviewing a broad spectrum of literature on climate change and have concluded the sun is the main driver of climate change, not carbon dioxide (CO2). Friends of Science is made up of a growing group of earth, atmospheric and solar scientists, engineers, and citizens.
Friends of Science Society
P.O. Box 23167, Mission P.O.
Calgary, Alberta
Canada T2S 3B1
Toll-free Telephone: 1-888-789-9597
Web: friendsofscience.org
E-mail: contact(at)friendsofscience(dot)org
Web: http://www.climatechange101.ca