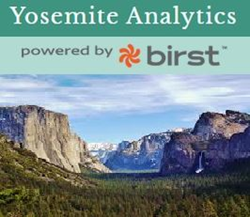 "We are thrilled to welcome Yosemite Analytics into the Birst partner community. Its unique focus on delivering SME-specific Birst solutions will be a tremendous benefit to customers." - Kim Davis, Birst VP of Alliances
Phoenix, AZ (PRWEB) December 01, 2016
Yosemite Analytics (http://www.yosemiteanalytics.com) is announcing a specially-designed partnership with Birst Inc. which brings Birst's industry-leading Cloud BI capabilities to the global small and mid-sized enterprise (SME) market.
The worldwide agreement with Birst enables Yosemite Analytics to offer BI solutions which are packaged and priced for SME companies, defined as organizations with less than $250 million in annual revenue.
"We are thrilled to welcome Yosemite Analytics into the Birst partner community. Its unique focus on delivering SME-specific Birst solutions will be a tremendous benefit to customers," said Kim Davis, Birst VP of Alliances.
"We are excited to offer the Yosemite Powered by Birst solutions to companies who previously couldn't afford industry-leading, enterprise-class BI & Analytics," said Bob Abernethy, President of Yosemite Analytics. "Cloud-based BI brings special benefits to SME organizations. We have worked closely together with the clear industry leader, Birst, to create a unique set of offerings which for the first time enables SMEs worldwide to harness the power of Birst's top-rated, enterprise-class BI to compete more effectively not only with other SMEs, but with their larger competitors as well."
Abernethy also commented on the new Birst 6 release recently announced on November 29, 2016: "Birst 6 cements and extends Birst's status as the industry leader and visionary. Birst's unique ability to deliver connected, smart, trusted, and enterprise-class BI & Analytics makes the Birst and Yosemite Analytics solution even easier to use and get up and running quickly for SMEs who don't have many – or perhaps any – IT and BI staff and power users."
"Yosemite Analytics is also announcing the availability of our Birst Best Practices white paper and our complete library of free on-demand videos we've created to make it easy for anyone to learn more about the power of the entire Birst BI solution – from back end to front end – including their uniquely powerful and flexible "Networked BI" which enables connected and trusted BI and data discovery at any scale, large or small. We provide expert guidance and assistance as needed to any customer – even those without an IT department – to help them get up and running quickly with enterprise-class BI & Analytics to optimize their business and gain competitive advantage."
Solutions and Pricing:
Yosemite levels the playing field for SMEs with its Trailhead, Ascent, and Summit offerings which are hosted by Yosemite and Powered by Birst:
Trailhead – Powered by Birst ----- $6K /year
Trailhead makes enterprise-level analytic tools available to small businesses. It offers full dashboards & reporting but limits the complexity of the data model and number of users. Trailhead pricing starts at only $6K per year which includes 3 users and can be flexibly upsized a la carte up to 9 users.
Ascent – Powered by Birst ------- $22K /year
Ascent makes analytic reporting available to medium-sized enterprises. The data model is more sophisticated and is maintained by Yosemite Analytics. Ascent pricing starts at only $22K per year which includes 10 users and can be flexibly upsized a la carte up to 50 users.
Summit – Powered by Birst ------ $36K /year
Summit makes complex analytic reporting available to medium-sized enterprises. Each enterprise can maintain and enhance their own data model. Summit pricing starts at only $36K per year which includes 25 users and can be flexibly upsized a la carte to an unlimited number of users.
--------------------------------
OEMs:
Yosemite Analytics also provides an affordable Powered by Birst BI solution for ISVs who have existing software applications. Yosemite is looking to partner with software vendors who want to add industry-leading Business Intelligence and Analytics to their solutions.
Consultants and System Integrators:
Yosemite's unique partner program enables consultants and system integrators to augment their services-based revenue with a SaaS-based recurring revenue stream. For more information, contact Yosemite Analytics.
About Yosemite Analytics:
Yosemite Analytics is a Phoenix-based BI & Analytics SaaS company that offers cloud-based enterprise BI solutions powered by Birst, the clear industry leader according to Gartner and other industry analysts. Yosemite specializes in providing BI solutions priced and packed for SME companies. More information about Yosemite Analytics and the Yosemite Powered by Birst solutions can be found at http://www.yosemiteanalytics.com.
About Birst:
Birst is the world's most advanced networked business analytics platform. Organizations can now achieve a new level of trusted insight and decision making by connecting their data and people via a network of analytics services. Birst scales from individuals to the enterprise in a manner that is smarter, more connected, and more scalable than any previous analytics and business intelligence platform. Learn more at http://www.birst.com and join the conversation @BirstBI.
Contact:
Americas: cthomas(at)yosemiteanalytics(dot)com
Asia-Pacific: apac(at)yosemiteanalytics(dot)com
Europe, Middle East, Africa: emea(at)yosemiteanalytics(dot)com
END
###