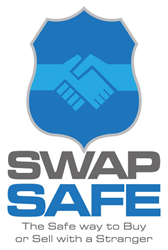 I investigated robberies relating to Craigslist listings and just wanted to do something to keep people safe
San Diego, California (PRWEB) December 01, 2016
Today, Swap Safe, a brand eliminating the need for risky face to face meetings with strangers when buying and selling online, has confirmed that it has opened a total of 8 centers in San Diego County and 1 in Temecula as part of its drive to make peer to peer selling safer for everyone. A first of its kind in the United States, the initiative is the brainchild of Gary Lawrence, a retired San Diego police detective who dedicated 31 years of his life to the force.
During his career, the law enforcement veteran witnessed people being robbed, badly beaten and even killed while trying to buy and sell items from complete strangers via huge peer to peer sales websites, classified advertising sites, and applications. With first-hand experience of the perils involved, the former detective felt empowered to take positive action to protect lives by inventing the ingenious new Swap Safe model. His work as a security consultant and safety systems inventor has seen him trusted by the National Football League (NFL), the San Diego Chargers, the Dallas Cowboys, the Portland Trailer Blazers and the Los Angeles Clippers.
"The beauty of Swap Safe is its versatility in catering for everybody who buys or sells items on peer to peer websites and apps. Plus, anyone who sells items on Ebay with a price point in excess of $76 will save money with Swap Safe," expressed Gary Lawrence, Founder, Swap Safe. "Given my years on the force, I've seen the risks involved in online purchasing and selling across America. I investigated robberies relating to Craigslist listings and just wanted to do something to keep people safe. Swap Safe is the perfect solution in peer to peer situations. We are not a sales app, people visit our website after they have found a buyer and need a safe and convenient way to conduct the cash transaction."
The very latest online selling figures from the U.S. Government reveal total retail sales for the second quarter of 2016 were estimated at $1.2 billion - a jump of 1.5% from the first quarter. In fact, e-commerce sales in the second quarter of 2016 accounted for 8.1% of all sales across America, according to the Census Bureau of the Department of Commerce.
The New Time Saving Smart Swap Safe Platform Features:
Zero potentially high-risk meetings with complete strangers - stamping out dreaded so-called "Robberies by Appointment."
Customers have the freedom to buy and sell using every major existing website and application.
Professional Swap Safe center staff show sale items to buyers and conveniently handle payment for the seller.
Zero waiting for a buyer to show up.
A system designed prioritizing safety by a retired police detective with over 3 decades of experience.
A universal low $10 flat fee (regardless of how high the selling price is) - proven to be lower than Ebay on sale items of $76 or more.
With headquarters in San Diego, California, the brand already has 8 Swap Safe centers located in San Diego County and 1 in Temecula, California. A population of 3.3 million people in the region gives Swap Safe a fantastic base as it plans to take the public safety-centric brand nationwide.
About Swap Safe:
The 9 Swap Safe centers situated in San Diego/Riverside County were established by a retired local police detective to make buying and selling from strangers online safer and convenient for everyone. Experience Swap Safe for yourself by visiting our website and also learn about our Top Tips for Buyers and our Top Tips for Sellers at http://swapsafe.org/
Join our new Social Media communities and spread the word to family, friends and colleagues about how they too can avoid Robberies by Appointment: https://www.facebook.com/swapsafe/
Source: http://www.census.gov/retail/mrts/www/data/pdf/ec_current.pdf
Media contact information:
Gary Lawrence, Founder, Swap Safe.
Email: Info(at)SwapSafe(dot)org
Tel: 888-274-0211.
Ends.
###