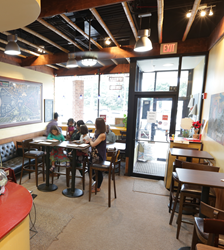 Behind every successful person is a substantial amount of Spicy Bites
Vernon Hills, IL (PRWEB) December 05, 2016
Spicy Bites of Vernon Hills, one of the oldest Indian café's in the Northern Suburbs of Chicagoland, has a completely new game face on now. The owner, Shiladitya "Shil" Niyogi, who is passionate about entrepreneurial turnarounds, first thought of owning a café, when he was visiting Lille, in Northern France with his wife, Aindrila Gupta. Inspired, he took a French culinary course. "My wife and I, always wanted to create a difference in the community. Aindrila is passionate about food – and I wanted a consumer business that could be scaled up and out. Spicy Bites snugly fit our equation."
With its Bamboo covered ceiling, a colossal hand drawn poster educating guests about the culture and food habits of the four regions of India, and over a dozen of large framed pictures that explain the café's uniqueness, the ambience of the place is somewhere between Starbucks and Café Coffee Day (an Indian Café chain), though it serves almost everything you may have come across at an Indian restaurant.
Niyogi, a published author of two management books, is a great proponent of Lean methods and customer-centricity. His more recent work on Lean Customer Engagement (http://www.leancustomerengagement.com), published by SAGE Publishing, focuses on engaging with customers by educating customers, enabling them, and effecting maximum value for these customers. "I want every employee at Spicy Bites to be a generalist and know how to engage with our patrons and cater to their needs."
"I was trained in Lean and Agile and learned how to create value fast, when I held product engineering leadership roles. Using my Agile training, we have changed the menu in an iterative manner, to effectively respond to what customers want. Along with that, Lean redefined some of our processes and offerings as well. We also included items from Eastern and Western Indian cuisine – those that are not commonly found at other Indian restaurants - entrees such as Bengali Fish Curry (Rohu fish or Tilapia marinated in yogurt and turmeric and cooked in mustard, onion and tomato sauce) and Goan Fish Curry (fish cooked in Goan Coconut and Kokum sauces) to snacks such as Vada Pav (fried potato patty sandwich with Western Indian spices) and Bengali Fish Fry (Fish marinated in Calcutta styled garlic ginger sauce, breaded and fried in low heat), are examples from the new menu. We have also added more South Indian entrees - Hyderabadi styled Biryanis (Marinated Goat/Chicken cooked with Rice) and Indo-Chinese fusion entrees such as Chilli Chicken and Chicken 65. Although, Indo-Chinese cuisine was developed by the vibrant Chinese community in Calcutta – but at Spicy Bites, we have enhanced the taste to suit the American palate. We are also planning to introduce other fusion food – such as Indo-Mexican and Indo-French in the longer term", says Niyogi.
"Besides, the full restaurant menu, we have also introduced a tiered buffet platter, styled after Chinese fast food places, for quick service to the patrons. Our Buffet combination choices range from small portions (priced at lower than $5) to an All-you-can-eat option. We have also added a lot more heart healthy items - including quinoa and brown rice in our menu options."
When we asked "why restaurant as an entrepreneur", Niyogi said, "I wanted to own a short-feedback-loop-equipped product manufacturing unit, where I could quickly change the outcomes, and also a scalable retail business unit that could serve two to three times its shop capacity. In other words, we are a café and can seat close to 30 customers – however, we can serve a hundred more customers, at the same time, through deliveries, take outs and catering". Although people have had other meal sources since ages (e.g self-cooking, or pre-cooked meals from groceries), there is no alternative to eating out – something that has grown even more in the last few years. Fresh fast casual food is not only convenient and value-for-money but is also healthy and provides a unique entertainment experience. In other consumables, there is an increasing number of online alternatives, while in restaurants, digital has only made it easier to spread the engagement and experience. Niyogi added "Spicy Bites has partnered with a few delivery partners – Doordash, GrubHub and Eat24 – to further our reach. We have built our own online food ordering system on our website – http://www.spicy-bites.com/online-ordering. We have opened ourselves on Mondays as well now - making us one of the few non-chain restaurants in the suburbs, who are open all 7 days. Besides these, there is an emotional element in the restaurant business – for instance, when Michelle P, a Spicy Bites customer recently informed me that she has been using our healthy meals in her diet plan and lost fifteen pounds already, that meant a lot to us. Moreover, we regularly donate food to charitable organizations and that is a different kind of psychic accomplishment. We are really fortunate."
Spicy Bites is ranked high on food and travel related websites. Most recently, Niyogi got an award for his turnaround efforts, from the Vernon Hills Indian Association, one of the largest Indian Associations in Chicagoland. "The engagement focus is gradually pulling new and lost customers back to Spicy Bites ever since we instilled a culture of customer first here."
When asked "What Next", Niyogi said he is open to expanding the brand footprint and replicating his lean model, and at the same time searching for other businesses and models, in need of turnaround.
If the entrepreneurial bug has been biting you – you have to remind yourself "Behind Every Successful Person is a Substantial Amount of Spicy Bites"; courtesy – the Spicy Bites tagline. If you want to learn more or partner in turnaround efforts you can reach out to Shil directly at Spicy Bites on Route 60, Vernon Hills – call 847-549-0099 or visit the page at http://www.spicy-bites.com.