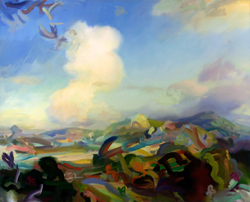 My guiding principle is to maintain a visual conflict between a classic and modern painting surface. I give you a setting, then add props, and stage pieces making you question whether you walked into the right theater," explains Beauchamp.
Santa Fe, New Mexico (PRWEB) December 01, 2016
It's the classic composition and atmospheric lighting of a Titian landscape imbued with the dramatic expression and fragmentation of a Van Gogh brushstroke. California painter Jeffrey Beauchamp is bringing a new perspective on abstraction to Pippin Contemporary, one that is drenched in art historical knowledge, passionate imagination, and striking artistic talent. The gallery began representing Beauchamp this fall, who is known for his gestural style and bold use of color, and a solo show for the California painter is tentatively being planned for the 2017 exhibition season.
"Beauchamp adds abstract touches to traditionally painted, sensitively rendered landscapes," says gallery owner Aleta Pippin. "This contrasting style sets up a dynamic for the viewer to consider at a deeper level." Beauchamp layers his structured compositions with raw strokes of color and loose forms, upsetting the elegance of the classical landscape with whimsical abstraction. From a distance, his compositions fall together with all the prescribed techniques - aerial perspective, recession, realistic highlights and shadows - but observing the painting up close challenges the viewer to maintain this perception among the now softened edges and spontaneous color movements. "My guiding principle is to maintain a visual conflict between a classic and modern painting surface," says Beauchamp. "I give you a setting, then add props and stage pieces that make you question if you walked into the right theater."
Beauchamp's intermixing of art historical genres is clearly intentional. His zealous art studies from the old masters to modern painters has been a direct influence on his work, beginning with his fine arts degree at the San Francisco Art Institute. He started his career with animation and airbrush painting, but a few inspirational museum visits led him to discover the richness of the Renaissance, the mystery of the Baroque period, the rebellion of Impressionism, and onward. In retrospect Beauchamp noticed that as he digested each genre, his own technique and style evolved in a similarly chronological way from realistic portraiture to expressive abstraction. Now, his work embodies the culmination of his artistic experiences and historical studies, and is enhanced by his own relationship with the natural world.
Pippin Contemporary, founded in May 2011 by artist Aleta Pippin, is located in the heart of the historic Canyon Road art district in Santa Fe, New Mexico. The gallery is committed to showing art that is fresh and vibrant, as well as collectible. Pippin Contemporary artists, selected for their energetic and tactile approach, provide visitors with a "sensory experience of color and mood" through vivid portrayals of personal expression.