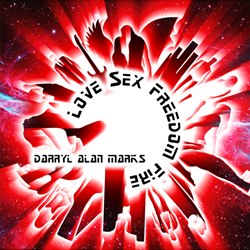 As it's my debut video, I wanted something groundbreaking, something different, something jaw dropping.
Johannesburg, South Africa (PRWEB) December 06, 2016
Darryl Alan Marks, independent South African musician and film maker, recently launched his debut album, 'Love Sex Freedom Fire', as well as launching the title track from the album.
Accompanying the single and the new album, the new artist has also launched a mind blowing music video that, as the video explains, is "the world's first 'No Glasses Needed' 3D Music Video".
It is a 3D video that literally jumps off the screen.
The video is available on YouTube at https://www.youtube.com/watch?v=c0lDStNUwXo
It uses a variety of optical illusions, including color contrasting, as well as a visual technique first popularized on the internet as 3D GIFs, to make the singer, the dancers, and the instruments, jump out at the viewer, creating a music video unlike anything that has been done before.
This YouTube Video is definitely a must-see.
Marks says that his goals are to "create some of the most original music videos ever seen, and to create powerful, raw, original music for the world to enjoy and be entertained by."
"What I believe in is originality," he explains. "Creating new and exciting experiences for people… something cool…for everyone to experience something never seen before…As for music, my goals are to make music that is big and bold and original, sexy, emotional, powerful, romantic and epic..."
Marks says the first step in these goals, is the release of the mind bending, eye popping music video, "As it's my debut video, I wanted something groundbreaking, something different, something jaw dropping."
The story about this music video, and the music, doesn't stop there. As it turns out, Marks is a self-taught filmmaker, singer-songwriter, and audio engineer. He states on his website that he does, and has done, everything himself; from the producing, mixing and mastering of the songs, to the filming, editing, adding of special effects, and production of the music video.
"I am a true indie musician," he says, "and everything you see and hear on this site…was and will be created entirely by me. I have no song writers, no directors, no animators, no special effects crews, no other musicians, and no sound engineers. No one else involved in any process accept me. Even my website, and all merchandise on offer, was coded and designed by me."
We asked Marks how he came to be self-taught in so many different, and diverse disciplines. His story began at the age of seventeen, when he started to teach himself guitar.
"I had always adored music and had always wanted to learn to play. So, I figured I would teach myself. I bought a cheap guitar from a pawn shop, and got a book and started practicing. It took a lot of time and effort, but I knew I wanted to learn…Of course, like most people, as soon as I could play, I started writing songs…and of course wanted to be a musician making music."
"I had so many ideas for songs, music and videos, I mean, I knew I wanted to create an album and videos and share it all… So, one day I decided to do just that... "
Marks reveals that he learned all his skills in sound and video, by watching hours of online tutorials, from online learning websites, as well as YouTube tutorials. By watching all these tutorials, he taught himself how to produce, mix and master songs, as well as how to film, edit, and create the unique special effects for the video.
This was all done in a small makeshift film and audio studio - that he set up inside his own apartment.
"I decided to teach myself what I needed to. I settled in and watched a massive amount of video tutorials on how to do everything…And then I set up a makeshift music and film studio in my spare bedroom…And just started creating."
"In reality, I'm just a normal guy who wanted to be a musician and decided to find a way to do it...I'm not like other musicians with the huge studio backing…And I believe it's not about having a huge studio behind you, it's about commitment and perseverance. Especially, today, in the music industry and entertainment industry, with the world of social media, I believe it's possible for one man to create his own unique vision...For one man to create his own style of indie music, in a way…To even create his own unique style of indie film-making and visuals…It just takes effort…Obviously, everything took a lot of time, and I had so many ups and downs, but I knew I wanted to create my own vision, so I just kept going. I knew I wanted to entertain the world…to give everyone something never seen before."
Marks says what he has created is the "tip of the iceberg," and that he has many more ideas and concepts waiting in the wings, concepts that he tells us are also unlike anything anyone has ever seen, concepts that he says will entice, entertain and mystify. "I just want to keep giving people stuff they have never seen before."
The album is available through iTunes, Google Play, AmazonMP3, as well as on the website http://www.darrylalanmarks.com. Physical copies can be ordered online via Amazon. Merchandise from the album and video, including T-shirts, posters and other items, is also available at the website.
Of course, Marks has a Facebook and Twitter page, and asks everyone to Like and Follow him, to be kept up to date on the new videos, concepts, art and music that he will be launching.
Marks also asks on his website for everyone to share the video with their friends and followers, so that everyone can experience "this amazing and ground breaking viral music video." And he asks for the support of the people who like the music video, asking for them to buy the album, single and merchandise, so that he can "continue [his] vision for original and different music videos and music, for the world to experience and enjoy..."