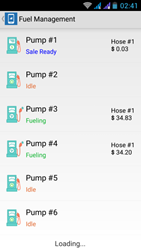 "The mobile point-of-sale with complete integrated fuel management is the first of its kind in the industry." said Luke Irvine, Project Manager at Scribble
St. Charles, Missouri –
The Docks Expo (PRWEB) December 01, 2016 -- Scribble Software Inc., a leading provider of business management solutions for the marina industry, announced the launch of marinaGO POS v2, their newest mobile point-of-sale app with integrated fuel management. Built for the iOS and Android platforms, the marinaGO point-of-sale is the first native mobile app in the industry to offer real-time integrated fuel management and is available for the iPhone, iPad, iPod, and Android devices.
Described as the "mobile dockhand", marinaGO POS unchains the marina industry from traditional countertop point-of-sale stations and fuel consoles by offering completely wireless integrated fuel dispenser control and sales register capabilities in the palm of the hand while out on the fuel dock. The app users will be able to easily control fuel dispensers, complete fuel transactions, and tender any other type of sale with the use of merchant supported payment methods including credit cards. A unique feature for the marina industry includes the ability to include any sale, including fuel transactions, on internal ticket charges.
"The marinaGO POS fuel management app will revolutionize the marina industry," says Vance Young, Director of Technology for Scribble Software. "Marina staff are now able to devote their attention to providing better service at the fuel dock by offering start to finish fueling activity without leaving the customer's side."
Luke Irving, Project Manager for Scribble Software adds, "The mobile point-of-sale with completely integrated fuel management is the first of its kind in the industry. We have listened to our customers and delivered the first mobile point-of-sale app with real-time fuel dispenser interface as they requested."
The marinaGO POS app features:
• A mobile sales register
• Integrated fuel management
• Supports most fuel dispenser brands
• Supports gasoline, diesel, blended, and other fuel types
• Complete sales with cash, check, and credit card payments
• Support for mobile magnetic card readers (MSR)
• Synchronize sales to back office accounting including QuickBooks®
The all new marinaGO POS app is positioned to offer functionality deeply desired by the marina industry to keep up with the demand for a more efficient fuel dock.
The app may be downloaded in the iOS iTunes app store at https://itunes.apple.com/us/app/marinago-pos-point-of-sale/id1111220762?mt=8 or the Google Play app store at https://play.google.com/store/apps/details?id=com.meetmariah.marinagoposx .
---
About Scribble Software Inc.
Scribble Software Inc. is a leading management solution provider for the marina industry and is located in Mechanicsville, Virginia. Scribble Software produces and markets the MarinaOffice Suite of Solutions, a leading marina management software solution used throughout the globe, as well as a growing array of both cloud based and mobile solutions. Scribble has risen as a leader in providing management solutions for the marina industry with the focus on providing solutions for all areas and departments of marinas. Scribble Software takes great pride in developing end-to-end enterprise level solutions backed by a support team second to none.