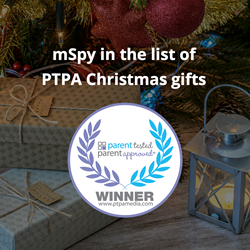 (PRWEB) December 15, 2016
In 2016 PTPA added mSpy to its list of the best Christmas gifts for kids. The PTPA seal is among the top 3 most recognized seals in the US. With this real-life testing system, parents don't need to go any further to find the best options for gift-giving. Sharon Vinderine, industry leader, founder and mother of two is dedicated to helping moms and consumers choose wisely when purchasing the best products for their families this holiday season.
mSpy now is one of the key instruments to safeguard modern children online. It is one of the best ways today to really acknowledge any child's interests and concerns. With the GPS tracking, parents can know if their children are in the wrong or a dangerous neighborhood; with the messaging records, including texts, emails and most messengers, cyber-bullying problems can be prevented. With the web browsing history reports, concerned parents can make sure that children are not spending time on pornography or gambling websites.
mSpy was designed to protect its users from different kinds of modern interactive threats and with its continuous developing, the application remains the most popular and efficient in the market.
Check our updates and get ready for the incredible mSpy Christmas SuperSale.
About mSpy
mSpy specializes in customized and user-friendly mobile & computer monitoring solutions, by utilizing the latest innovations in monitoring technologies. mSpy's goal is to deliver the fastest and most secure solutions that suits most demanding parental and corporate needs and brings guaranteed results at an affordable price.