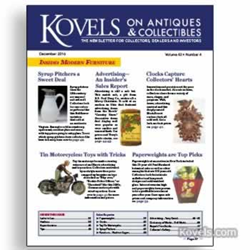 Cleveland, Ohio (PRWEB) November 30, 2016
Paperweights by antique and contemporary makers were sold at auction in New York and are featured in a sale report in Kovels on Antiques and Collectibles December 2016 newsletter. With varying shapes, intricate colorful designs and unblemished glass, their prices ranged from just under $300 to just over $3,000. Mid-century furniture designed by Vladimir Kagan sold high at New Jersey and Chicago auctions. Kovels' December newsletter pictures "Floating Curved" and "Cloud" sofas that sold for $20,000 and $10,000 respectively, along with other sleek curved Kagan chairs, table and library steps. And toy motorcycles zoomed off the auction block in Chicago, where collectors paid $60 to $3,600 for lithographed tin models with friction and wind-up action. Examples in Kovels' latest issue.
All kinds of clocks auctioned in Iowa, where there was something for every type of clock collector. Buyers chimed in to buy advertising, figural, nautical and even tower clocks for prices from the low hundreds to almost $34,000. See the top lot 18th century bracket clock by Hugh Gordon, an Indian Colonial clock maker, along with a variety of other wall and shelf examples in Kovels' December issue. And 19th-century glass syrup pitchers in pretty patterns and colors were included in a Virginia glass auction. Prices peaked at $1,300 but many could be had for less. Kovels' December newsletter pictures cranberry, ruby, vaseline and milk glass syrups with their selling prices.
Terry Kovel reviews results of the fall auction that included signs, displays and other antique and vintage advertising items from the Kovels' "country store" collection. Terry shares stories, oddities and disappointments along with some of her favorite pieces and their prices. The popular illustrated Collector's Gallery answers readers' questions about a box of Dixon colored pencils, Seatmore chair, Tom and Jerry mug and rubber doll that squeaks. December's Dictionary of Marks lists makers of antique dolls. And more than 70 antiques and collectibles are listed in the Buyer's Price Guide.
Kovels on Antiques and Collectibles is available as a print subscription, or as a digital version that is part of the Kovels.com Premium subscription.
Terry Kovel is America's foremost authority on antiques and collectibles. She is the well-known columnist and author of more than 100 books on antiques and collecting. With her daughter, Kim Kovel, she co-authors the best-selling annual Kovels' Antiques and Collectibles Price Guide. The 2017 edition is now available at Kovelsonlinestore.com and local bookstores. They will discuss antiques and collectibles topics with accredited media. Photographs are available. Contact pr(at)kovels(dot)com.
About Kovels.com
Kovels.com, created by Terry Kovel and Kim Kovel, provides collectors and researchers with up-to-date and accurate information on antiques and collectibles. The company was founded in 1953 by Terry Kovel and her late husband, Ralph. Since then, the Kovels have written some of America's most popular books and articles about antiques, including the best-selling Kovels' Antiques and Collectibles Price Guide 2017. The website, Kovels.com, online since 1998, offers more than a million free prices, and includes a free weekly email, "Kovels Komments." It gives readers a bird's-eye view of the market through the latest news, auction reports, a Marks Dictionary, readers' questions and answers and much more.
Contact Information:
Liz Lillis
216.752.2252
Pr(at)kovels(dot)com