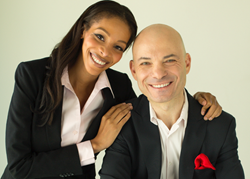 (PRWEB) November 30, 2016
Lars Productions, started by Lenny Rosenberg, owner of the iconic Lenny's Deli in Westwood, California http://www.lensdeli.com and partner Adesa Swan in Lars Productions has generated over 250,000 followers on Twitter & over a million views on their Lars Productions You Tube Chanel for various television segments.
With growing success, Rosenberg and Swan are now represented by UTA. Lars Productions, a full service reality TV production company, currently has a few projects in the works, that are sure to be big hits with a growing following on social media and a top talent agency to represent them. Of these projects, The Grub, premiered May 23, 2016 on JLTV.
Represented by "super agent" Adam Leibner of UTA, Rosenberg and Swan are pitching a new show called, "In The Dough." The show will follow Rosenberg and Swan as they invest and rebrand ailing restaurants around the country. Each exciting episode will take viewers on a new adventure.
To learn more about Lars Productions, visit http://www.larsproductions.com and follow them on twitter @larsproduction.