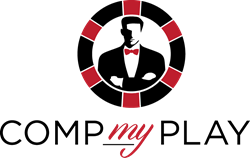 Comp My Play is a trendsetter in embracing the creativity of mobile marketing to keep up with the ever-evolving player.
(PRWEB) December 01, 2016
The Comp My Play mobile app has won the Platinum Award for "Best Social / Lifestyle App" on BestMobileAppAwards.com. The application, which is designed to offer convenience and ease for customers, empowers gaming enthusiasts to receive and use casino incentives from their mobile device. The app also allows casinos to attract players, by uploading tier specific comps directly to the player's mobile device.
Developers and entrepreneurs from all over the world showcased their latest and greatest mobile apps for consideration into being among the best in the industry. A team of highly regarded mobile app developers were among those who reviewed and judged each app for the final award considerations.
"This award stands as validation that we created a product of need and value within this industry," says founder Brandon of Comp My Play. "Our primary objective for the Comp My Play product has been to create a tool that makes researching and looking for casino incentives easy and all in one place. We put a lot of time in R & D to ensure that the different features and platform connects casinos and players together effortlessly. Comp My Play is a trendsetter in embracing the creativity of mobile marketing to keep up with the ever-evolving player. As more and more casinos grasp the tremendous marketing potential and personal touch of mobile marketing, CMP will guide casinos in the mobile-oriented communication world and enable a better experience for gaming enthusiast."
About Comp My Play
Comp My Play is the first-to-market casino search engine of its kind that locates and delivers customized comps directly to mobile devices from over 50 participating casinos in 23 cities across the country - saving users time and money on all gaming and entertainment activities.
Utilizing cutting-edge, geo-location technology, the app searches for comps in a user's area or an area where a user is planning a trip and issues relevant offers for things like free play, hotel room discounts, spa packages, free concerts and shows, golf outings, and much more. There is no obligation or cost for using the app. Simply download the app, search by location and convert custom offers to vouchers that can be redeemed at the casinos' rewards desk or online at the touch of a button.
For more information on Comp My Play visit:
https://compmyplay.com/
To see a video of how the app works visit:
https://www.youtube.com/watch?v=u9iZYEq-VRw
The latest version of the Comp My Play application is available at:
Apple Store: https://app.adjust.com/ovpegs
Google Play for Android: https://app.adjust.com/ovpegs
Contact:
Stephanie Martin
smartin(at)compmyplay(dot)com