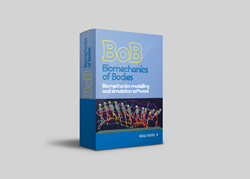 Perception Neuron continues to deliver on the promise of an affordable motion capture system, and our collaboration with the BoB team is allowing us to further fulfill this goal.
Coventry, England (PRWEB) November 30, 2016
When Noitom launched Perception Neuron on Kickstarter over two years ago, one of its goals was to offer a professional, real-time data capture tool for use not only in animation and VFX, but for sports analysis and stage performance. Now with its latest software and hardware package featuring BoB, the motion capture company is giving researchers and educators the upper hand in generating data for musculoskeletal analysis in a variety of applications.
Biomechanics of Bodies (BoB) is a biomechanical modeling package that contains a human musculoskeletal model. BoB enables the calculation of anatomical trajectories, center of mass trajectories, ground reaction forces, muscle forces, and joint contact loads together with a muscle editor and an extensive visualization capability.
A complete package including the BoB system and a Perception Neuron 18-sensor full body motion capture suit will be available for purchase on the Perception Neuron website for $1599. This offer represents a savings of many thousands of dollars compared to other motion capture equipment and provides the complete system from movement to analysis. The combination of Perception Neuron's motion capture hardware and BoB's analytical software provides a seamless suite from a single supplier. Let the Perception Neuron / BoB package be your partner in biomechanical analysis.
"We are very excited to offer this complete professional biomechanics package to our customers," explains Roch Nakajima, VP of Marketing for Noitom. "BoB is simply incredible, all the more so because it is one of our users who developed this software. Perception Neuron continues to deliver on the promise of an affordable motion capture system, and our collaboration with the BoB team is allowing us to further fulfill this goal."
The powerful combination of Perception Neuron and BoB will allow universities, colleges, research institutes, healthcare professionals and industrial designers to record real-time data for analysis in athletic performance, sports equipment design, consumer product design, litigation including industrial injuries and manual handling, non-life-critical healthcare and beyond.
BoB is the leading musculoskeletal analysis package developed in MATLAB® and has been downloaded by over 400 research and commercial organizations. Some of BoB's significant features include:
● Easy data importing of Perception Neuron .calc files
● User editable skeleton and muscle models
● Short learning curve ideal for teaching
● Advanced analysis ideal for research
● Easy data exchange with MATLAB®
● User defined MATLAB® Handle Graphics scripts
● Extensive graphics display features
● Calculation of ground reaction forces, joint torques, muscle forces, joint contact forces, muscle lengths and velocities and center of mass
● Output of tabulated data, images and videos
Perception Neuron's IMU-based sensor technology and BoB's analysis capabilities enables the system to be used anywhere and not confined to a laboratory or classroom. Now researchers and educators can work in realistic environments from the running track to the factory workplace to the ergonomic workshop to the design studio.
"The BoB development team is delighted to be working closely with Noitom. As users of a Perception Neuron motion capture system we understand the high quality of their hardware and we feel the BoB musculoskeletal modelling package is its perfect complement to extend its capability to include biomechanical analysis. Together we can provide the complete package for biomechanists researching in academia, teaching at all levels or working in product development."
Bob will be available as a standalone package or as p-code for MATLAB users. For further information visit the Perception Neuron online store.
Founded in 2011, Noitom Ltd. works with a team of dedicated engineers who develop world-class motion capture technology for consumer and industrial markets through the integration of MEMS sensors, pattern recognition, human kinetics and wireless transmission. Noitom is an international leader in innovative technology for use in animation, film, medical applications, robotics and gaming. Noitom is headquartered in Beijing with affiliate offices in Shenzhen. For further information about Noitom and its services, please visit, http://www.noitom.com. For general inquiries, please email, info(at)noitom.com.
BoB is provided by Marlbrook Ltd – a British company engaged in motion capture and analysis since 2001. Marlbrook has worked with national and international sporting organisations, automotive manufacturers and healthcare providers. Marlbrook operates a motion capture laboratory and specialises in motion analysis code development. For further information see: http://www.marlbrook.com