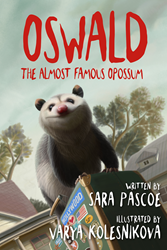 Children no longer want to be anything specific when they grow up, they just want to be famous.
Washington, DC (PRWEB) December 05, 2016
The majority of children in the US no longer want to be anything specific when they grow up; not firefighters, doctors or artists. Researchers at UCLA's Children's Digital Media Center have shown that they merely want to be famous. Author Sara Pascoe, who comes from a career in psychology and public policy, offers kids another perspective through Oswald, the Almost Famous Opossum.
"There are a number of worrying signs," Dr. Pascoe said. "The rate of narcissism is on the rise in college kids, as is the rate of depression more generally. We are social animals, no less than bees, and when we substitute number of followers or 'likes' on social media for true connection and accomplishment, we are in trouble."
Inspired by the raccoons and opossum who frequented her yard and helped her out with left-overs, Ms. Pascoe described the characters as "not letting her alone" until she wrote the book. "It was great fun living with this story playing itself out in my head. Sometimes I'd be laughing out loud on the Metro on my way to work—people gave me a wide berth! It's a silly, funny story, with some other more serious issues woven in."
Illustrated by Varya Kolesnikova, Oswald has been called "a Winnie the Pooh for the 21st century". Kate Ankofski, Editorial Director, Hillcrest Media said Oswald was "truly one of the best children's books that has come across my desk in quite some time." Story as a means of fomenting change for the better has a long history from fables to education entertainment, and Ms. Pascoe's book fits within these traditions.
Oswald's best human friend, Joey, a shy, ten-year old African American boy who can speak to animals, helps Oswald with his attempts at fame. Through a library break-in, visits with animal control, a false animal cruelty arrest, a viral video, and more, Oswald, along with his animal and human friends, takes the reader on an adventure through self-discovery and friendship.
Maligned and even reviled, opossums are often mistaken for rodents. But they are marsupials, the only ones in the new world. Oswald, the Almost Famous Opossum, weaves in interesting information about a number of animals and some general biology.
Before moving to England, the Sara Pascoe lived in Mount Rainier, Maryland, where Oswald is set.
About Sara Pascoe
Ms. Pascoe is originally from the USA and now lives in England. More information and other books can be found on http://www.sarapascoe.net/. She publishes through Trindles & Green, Ltd.
For review copies, please contact:
Kenneth Trindles at info(at)trindlesandgreen(dot)com US (202) 688-7663, or UK +44(0)779 505 5157
.
BOOK DETAILS:
Oswald, the Almost Famous Opossum
by Sara Pascoe, Illustrated by Varya Kolesnikova
Published in October 2016 by Trindles & Green, Ltd.
Paperback ISBN: 978-0-9935747-0-2, $12.95
Available online including Amazon, and in stores, wherever books are sold. (School discounts available.)
Distributed by Ingram Book Co., 800-937-8200