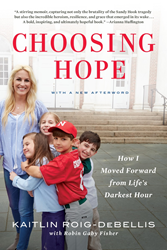 When you teach kindness, love, and empathy, there is no room for hate. - Kaitlin Roig-DeBellis
The Woodlands, Texas (PRWEB) December 02, 2016
Junior League of The Woodlands announces Kaitlin Roig-DeBellis as its 2017 IMPACT event speaker and rolls out its, "Dollars for Districts – A gift for you, a gift for your school!" initiative. Celebrating its 17th year, educators, parents and students are invited to attend this inspiring and educational event. Schools with the highest attendance will be awarded a $500 gift through Dollars for Districts and each educator earns 4 CPE credits.
Speaker, Roig-DeBellis, is best known for her role as the heroic teacher who shepherded her fifteen first-grade students to safety in a tiny bathroom at Sandy Hook Elementary School in December 2012. Roig-DeBellis writes about the struggle for both herself and her students in her book, Choosing Hope: Moving Forward from Life's Darkest Hours. While the genesis of the book stems from the trauma of the horrific events of December 14, 2012, when gunman Adam Lanza killed 26 people inside the school, Roig-DeBellis wrote Choosing Hope to share her fierce determination to never let that day define her life.
In addition to being an acclaimed author, Roig-DeBellis is the founder and Executive Director of the Classes 4 Classes organization, which helps classrooms donate to other schools in need. Its mission is for every student in the United States to learn about compassion, caring, kindness, empathy and consideration – lessons that every child needs to learn. Roig-DeBellis has also been honored as a Glamour Woman of the Year and L'Oréal Paris Woman of Worth in 2013.
About IMPACT:
IMPACT, short for Increase and Motivate Positive Awareness in Children and Teachers, is an annual conference hosted by Junior League of The Woodlands to help parents, teachers and students learn skills to teach and encourage positive self-esteem in children. Currently the League partners with ten school districts and a number of private schools to provide free admission and continuing education credits for the schools' staff members. In addition, IMPACT will award a $500 gift to the schools with the highest attendance at the event, one from each of the 10 districts and one private school, as part of its "Dollars for Districts – A gift for you, a gift for your school!" campaign. Interested in learning more about our IMPACT program? This video highlights the event and its success over the years.
Event Information:
Saturday, February 4, 2017
9:00 a.m.
Woodlands Church
1 Fellowship Lane
The Woodlands, TX 77384
For more information or to register for the event visit the event page.
The Junior League of The Woodlands, Inc. is an organization of women committed to promoting voluntarism, developing the potential of women and improving communities through the effective action and leadership of trained volunteers. Its purpose is exclusively educational and charitable.