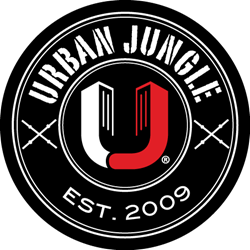 "We are proud to be the first gym to implement a comprehensive fitness badge reward system helping our clients exceed their fitness goals and attain new levels" says Joshua Votaw, owner of Urban Jungle.
Woodside, New York (PRWEB) December 01, 2016
Boutique fitness studio Urban Jungle (http://www.trainurbanjungle.com) has launched a brand-new Fitness Badge System to help clients create and achieve their goals. Urban Jungle, located in the heart of Queens, New York, is the first gym to offer this type of reward system as part of their challenging mix of fitness classes.
With the implementation of the fitness badge system, Urban Jungle provides a unique platform for delivering rewards and incentives designed to motivate clients to maximize their full workout potential. The badges can be broken down into three different categories: Strength, Skill and Stamina. Badges can be attained within each category and must be verified by an Urban Jungle Coach. The strength series focuses on foundation movements and includes exercises such as pull-ups, sit-ups and squats among others. The skill series focuses on exercises which challenge your ability to control your body and includes exercises such as rope climbing and double-unders with a jump rope. Finally, the stamina series is designed to test your endurance and includes an increased duration of work with exercises such as cycling, running and rowing. The different color badges coincide with the level attained for that exercise, green being first level and black being elite.
Once a badge is earned a digital copy of the badge is sent to the client with the results posted on Urban Jungle's website. Clients are also able to share their earned badge on social media outlets to showcase their achievement, inspiring their own friends and family as well. Once a client collects a specific number of different color badges they receive various rewards such as apparel or free classes. Visit Badges for a full list of badges and rewards.