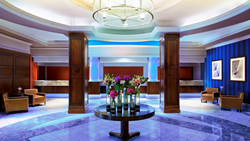 BALTIMORE, MD (PRWEB) December 06, 2016
Yesterday Baltimore Mayor Stephanie Rawlings-Blake joined the Baltimore Development Corporation and the Greater Baltimore Committee to present the Radisson Hotel Baltimore Downtown-Inner Harbor with the coveted 2016 Mayor's Business Recognition Award. The award honors deserving companies that have engaged in specific activities or projects that have significantly benefited the Baltimore community. The hotel is managed by Crescent Hotels & Resorts, an operator of over 100 hotels throughout North America, including 14 in the Washington, DC/Baltimore area.
"We are so proud to have received this award as it truly speaks to the importance our team has to service our city. This includes helping Baltimore economically and to give back to a community that has been so good to us," said Michelle Donovan, Complex General Manager who oversees this hotel. Donovan credits the success of the award to the leadership of Juan Webster, the Radisson Hotel's General Manager, and his passion to serve the community. The hotel has been included in a variety of community projects to help Baltimore residences such as Toys for Tots, Park Heights Community Health Alliance, LACC Foundation and Baltimore City Schools Breakfast of Champions, to name a few. The award is given annually to those companies that have demonstrated outstanding community service and, through their contributions, have significantly improved the city.
With 323 rooms and 18,500 square feet of meeting space, the hotel partners with a variety of local and national charities to host fundraising events. "We offer special pricing for those looking to host fundraisers to help the city of Baltimore," said Donovan, "It's just another way of giving back." The extensive amount of function space allows the hotel to host sit down events for up to 900 guests and receptions up to 1,500 guests. Those searching for function space for ten or more guest rooms may call 410-385-6570 or click here. Donovan notes much of their success is due to local companies as they like to do business with vendors who care about the city and its people.
About Radisson Hotel Baltimore Downtown-Inner Harbor
Radisson Hotel Baltimore Downtown-Inner Harbor, just four blocks from the harbor, puts guests in the center of it all. The hotel is close to countless restaurants, shopping and attractions. At twenty three floors, the tower hotel, is part of the Baltimore landscape. Amenities include complimentary WiFi, restaurant, bar, fitness center, rooftop outdoor seasonal pool, valet parking and nine meeting rooms (totaling 18,500 sq ft). For more information on the Radisson Hotel Baltimore Downtown-Inner Harbor, please visit http://www.radissonbaltimoreharbor.com call 410-752-1100, like on http://www.facebook.com/radissonbaltimoreharbor or follow on https://twitter.com/RadBaltimore.
About Crescent Hotels & Resorts
Crescent Hotels & Resorts is a nationally recognized, top-3 operator of hotels and resorts. Crescent currently operates over 100 hotels and resorts in 27 states in the US and 5 provinces in Canada. Crescent is one of the few elite management companies approved to operate upper-upscale and luxury hotels under the brand families of Marriott, Hilton, Starwood, Hyatt and IHG. Crescent also operates a collection of legendary independent hotels and resorts. Crescent's clients are made up of hotel REITs, private equity firms and major developers. For more information, please visit http://www.chrco.com or connect with Crescent on LinkedIn.
rw Stayinwashingtondc.com #stayinwashdc