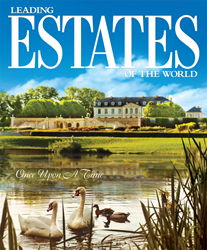 A curated selection of extraordinary estates reveals how imagination plays a vital role in lifestyle design.
(PRWEB) December 01, 2016
Leading Estates of the World No. 203—The Storybook Issue—reveals in a freshly curated selection of extraordinary estates how imagination plays a vital role in lifestyle design, with real-life heroes and heroines undertaking epic challenges to fulfill their estate life dreams. Step into a magical world where "Once Upon a Time" is evoked in an enticing collection of fairytale refuges, world-class residential developments, and historic, handcrafted properties of distinction in storied locations ranging from the Loire Valley to the lofty heights of Manhattan, the peaceful hills of Lazio outside Rome to the grandeur of Palm Beach, and a hilltop perch in Florence to the Edenic beachfronts of Hawai'i:

A magnificent estate along world-renowned First Neck Lane with nearly 400 feet of water frontage on Southampton's Lake Agawam. $65,000,000, represented by Tim Davis of Corcoran Group (corcoran.com/tgdavis)
France's Chateau du Grand-Luce provides long walks through mystical gardens surrounding a soothing pond on the grounds of the extraordinary Loire Valley estate. $11,400,400, presented by Ron de Salvo and Elizabeth Stribling (stribling.com)
A 31,886-square-foot Palm Beach Ocean-to-Intracoastal mansion on two-plus acres featuring an oceanfront three-story open-air tower, evening loggia, and convenient multi-vessel dock. $43,900,000, represented by Jim McCann of Corcoran Group (jimmccannpalmbeach.com)
Jackie Kennedy's Georgetown retreat, an authentic Federal home with a storybook provenance beginning in 1794 that includes many notable owners and occupants. $8,995,000, represented by Nancy Taylor Bubes of Washington Fine Properties (wfp.com)
Perched above the Pacific Ocean with 266 feet of waterfront, a private kingdom in Malibu providing expansive stone patios, verandas, and terraced grounds and gardens ingeniously orchestrated by renowned landscape architect Maureen Barnes. $25,000,000, represented by Chris Cortazzo and Ron de Salvo of Coldwell Banker Residential Brokerage (chriscortazzo.com)
The Waiea Grand Penthouse Level 36 in Honolulu, Oahu, developed by the Howard Hughes Corporation and designed by award-winning architect James K.M. Cheng and acclaimed interior designer Tony Ingrao, is the flagship building of Honolulu's most distinguished urban neighborhood, Ward Village. $36,000,000 represented by Matthew G. Beall of Hawai'i Life Real Estate Brokers (HawaiiLife.com)
A modern mountain hideaway on 500 feet of private Roaring Fork riverfront in highly coveted Woody Creek outside Aspen, Colorado, with separate riverside guest house. $9,900,000, represented by Jackson Horn and Kim Coates of Coldwell Banker Mason Morse (masonmorse.com)
Rosario Candela's Georgian masterpiece at 720 Park Avenue, originally designed for a member of the family that founded Macy's, features a large gallery with lovely circular staircase and four exceptionally proportioned reception rooms. $22,500,000, represented by Kirk Henckels and Jennifer L. Callahan of Stribling and Associates (stribling.com)
Henry Flagler's Whitehall in Palm Beach, an estate considered unequalled and unsurpassed anywhere in the world at the time, was a wedding present to his new bride in 1902. (leadingestates.com)
Frank Lloyd Wright designed The Ennis House, a Mayan-fantasy estate built of stone in the hills overlooking Los Angeles. (leadingestates.com)
Chileno Bay is the creative transformation of the original Hotel Cabo San Lucas—on the southern tip of the Baja Peninsula overlooking the Sea of Cortez in Mexico—to the preeminent, private, and alluring community created by the intelligent leadership and dynamic development of Discovery Land Company. (discoverylandco.com)
Leading Estates of the World brings current relevance to the amazing tales that surround the property owner and their estate lifestyle and community. Esteemed brokers and their companies—members of The Estates Club—embrace the honor and responsibility of representation, and most importantly, the pride of fulfillment in achieving the mutual goal of a successful transaction. The Storybook Issue tells these stories that transcend the ages in satisfying buyers' expectations and excitement.