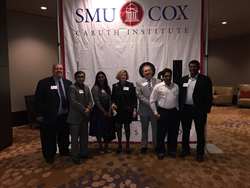 We are honored and humbled to be selected as a Dallas 100 Award winner
2425 N. Central Expressway, Suite #410 Richardson Texas 75080 (PRWEB) December 01, 2016
Put on annually by the Caruth Institute for Entrepreneurship at the SMU Cox School of Business, the Dallas 100™ Awards honor the 100 fastest-growing privately held companies in the Dallas Metroplex area. Each year, the awards celebrate area entrepreneurs and the diversity, creativity and resolve it takes to create and sustain a successful business in today's competitive environment. Impiger was selected for this year's list in recognition of the company's significant sales and revenue growth over the course of the last three years.
"We are honored to be named a winner during the 26th anniversary of the Dallas 100 Awards, for the fastest growing companies in the Dallas Metroplex area," said Jude Ramayya, Founder and CEO at Impiger. "I'm so proud of our team and the hard work, commitment and value they give to all our customers. To be included with such a select and prestigious group of companies, honored this year makes us proud and validates the business value in always putting your customers first beyond anything else."
Impiger was in very good company with this year's 100 award winners. Impiger would like to recognize and congratulate freshbenies and Watchguard Video, two valued Impiger customers, for also being recipients of this year's Dallas 100™ Awards.
"We are so happy for our customers," said Pete Di Stefano, Vice President of Marketing at Impiger. "To have an opportunity to share and celebrate this recognition with our extremely successful customers is wonderful. It was as exhilarating to cheer for our customers as their names were called as it was to here our company recognized."
About The Dallas 100 Entrepreneur Awards:
Co-founded by the Caruth Institute for Entrepreneurship in 1990, the Dallas 100™ Awards is an annual event that identifies and honors the 100 fastest-growing privately held companies in the Dallas area. For more information on The Dallas 100 Awards, visit http://www.smu.edu/Cox/CentersAndInstitutes/CaruthInstituteForEntrepreneurship/Dallas100.
About Impiger Technologies
Impiger Technologies is a world-class, enterprise software solution engineering company specializing in Mobile Application Development, Cloud & Web Applications. For over a decade Impiger has been delighting customers with a 90% retention rate. Impiger is credited with more than 250 mobile applications: iOS, Android, Windows Mobile, HTML5, etc. and developing over 150 web applications across SharePoint, Microsoft Azure, ASP.NET. Impiger helps enterprises improve business efficiency, productivity, and revenue. To learn more about Impiger Technologies, visit the website at impigertech.com or visit Impiger's Twitter page @impigertech.